Juul Labs Announces Action Plan to Curb Underage Use of E-Vapor Products
Get great content like this right in your inbox.
Subscribe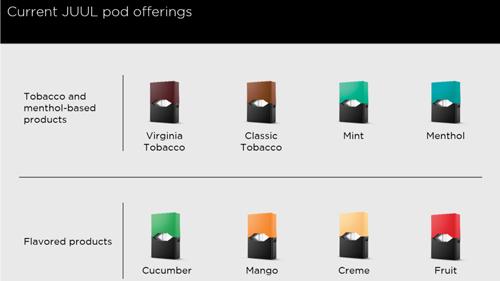 SAN FRANCISCO — Getting in front of any regulatory action, Juul Labs will stop selling its flavored Juul pods in more than 90,000 retail locations in a move to help prevent youth tobacco use.
According to the company, its flavored products are Cucumber, Mango, Creme and Fruit. Its tobacco and menthol-based products consist of Virginia Tobacco, Classic Tobacco, Mint and Menthol.
"We launched flavors like Mango, Fruit, Creme and Cucumber as effective tools to help adult smokers switch from combustible cigarettes, and we do not sell flavors like Gummy Bear or Cotton Candy, which are clearly targeted to kids," said CEO Kevin Burns.
"However, we are sensitive to the concern articulated by FDA [Food and Drug Administration] Commissioner [Scott] Gottlieb that '[f]lavors play an important role in driving the youth appeal,' and understand that products that appeal to adults also may appeal to youth."
As a result, as of Nov. 13 Juul stopped accepting retail orders for its Mango, Fruit, Creme and Cucumber Juul pods from the 90,000-plus retail stores that sell the product, including traditional tobacco retailers like convenience stores and specialty vape shops.
The company's decision comes as the industry expects the FDA to prohibit the sale of flavored pod-based vapor products in convenience stores. It is widely believed the agency will make the announcement — effectively allowing sales only in adult-only tobacco stores and vape shops — this week.
Moving forward, Juul's flavored pods will only be available online.
"We will now make Mango, Fruit, Creme and Cucumber available only on Juul.com, where we are adding additional age-verification measures to an already industry-leading online sales system that is restricted to people 21 and over and utilizes third-party verification," Burns explained.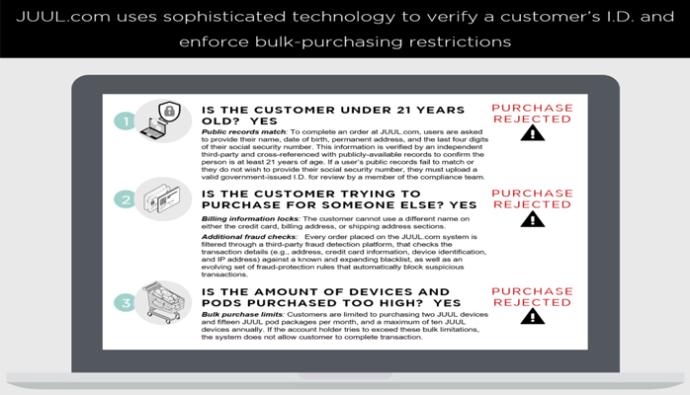 According to the chief executive, to place an online order, users are asked to provide their name, date of birth, permanent address and the last four digits of their social security number. The information is verified by a third party and cross-referenced with publicly available records to confirm the person is at least 21 years old.
If a user's public records fail to match or they do not wish to provide their social security number, they must upload a valid government-issued ID for review by a member of the company's compliance team.
To prevent bulk shipments to those attempting to distribute to minors, online customers are strictly limited to two devices and 15 Juul pod packages per month, and no more than 10 devices per year.
"By year's end, our age verification system will include additional protections, such as two-factor authentication, which verifies a user's identity through their phone number, and then requires a code sent to that phone to create an account," Burns explained. "We will also add a real-time photo requirement to match a user's face against an uploaded ID."
Juul pods that mirror combustible cigarettes – tobacco and menthol-based products – will still be available in retail stores.
"To secure sales of these products, we are immediately increasing our secret shopper program, from 500 visits per month to roughly 2,000 per month, to verify that our standards are being followed by retailers," Burns said. "We will also impose financial consequences against retailers caught by FDA selling to minors or allowing bulk sales of our products. We will permanently cut off all sales to retail stores with multiple violations."
In addition, the San Francisco-based company will continue enforcement efforts against online marketplaces that sell its products in violation of their terms of service. According to Burns, Juul Labs has worked with online marketplaces, such as eBay, Alibaba, Amazon and DHgate, to remove more than 23,000 third-party listings of Juul products and/or counterfeits.
"Engaging with these online marketplaces to remove unauthorized listings will remain an ongoing part of our action plan," he said.
The company is also eliminating its social media accounts and continuing to monitor and remove inappropriate material from third-party accounts.
Future Moves
According to Burns, Juul will only restart accepting orders for Mango, Cucumber, Fruit and Creme from retail stores that can legally sell flavors and comply with the criteria of the company's new 21+ Restricted Distribution System:
Retail stores must invest in technology that designates flavored Juul products as restricted.

Once the products are designated restricted, clerks must electronically scan IDs for flavored Juul pod purchases, as well as visually verify the customer's ID. Purchasers will need to be 21-plus to buy flavored Juul pods regardless of local laws.

Once an ID is scanned, the user will be age-verified, and the sale quantity will be limited to prevent bulk purchases.
Juul is also using its roots as a technology company to reinforce its efforts and is developing end-to-end traceability to track where a specific Juul device or Juul pod was purchased to focus enforcement efforts on bad actors.
"Keeping track of devices through a serial number is one of the most effective ways we can monitor where our products are ending up, as well as identify counterfeit products," Burns said. "Juul Labs has also invested tens of millions of dollars and spent over a year working on our next-generation, Bluetooth-enabled device, which will break new ground on access restrictions at the user level."
The next-generation device will first launch in select international markets.