Kraft Heinz Selects Five Disruptive Food & Beverage Brands for Inaugural Springboard Incubator Program
Get great content like this right in your inbox.
Subscribe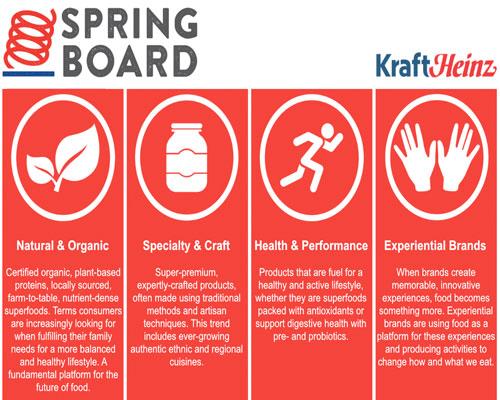 CHICAGO — The Kraft Heinz Co., the fifth-largest food and beverage company in the world, is shaking things up.
Through Springboard, a platform launched by Kraft Heinz in March to nurture, scale and accelerate growth of disruptive brands, the company has chosen five brands as part of the inaugural Incubator Program class.
The program was created to help nurture and develop the next generation of food and beverage brands, while staying close to entrepreneurs, new ideas and consumer trends, according to Kraft Heinz. 
"Hundreds of applications were carefully reviewed to select authentic propositions and inspired founders within one of the four pillars shaping the future of food: Natural & Organic, Specialty & Craft, Health & Performance, and Experiential brands," said Sergio Eleuterio, general manager for Springboard Brands. "We are excited to kick off our program with a group of great founders, amazing and purposeful products, that we wholeheartedly believe will succeed in the marketplace."
Over the course of the next 16 weeks, the selected startups will participate in a program composed of learning, funding, infrastructure access and mentorship in Chicago. The startups are:
Ayoba-Yo
Founders and South African native brothers Wian and Emile van Blommestein introduced their 400-­year-­old family recipe to the market in 2017 and offered an alternative to traditional beef jerky and meat sticks, known as Biltong & Droewors. Their 14-­day air-­drying process, combined with high-quality meat cuts and spices deliver tender, savory, and sugar-­free products with no shortage of flavor, according to Kraft Heinz.
Cleveland Kraut
The bold brand is grounded in its Cleveland heritage to serve healthy fermented foods at a fair price. The team is led by Drew Anderson, his brother Mac and brother-­in-­law Luke.
Kumana
The Los Angeles-based company, best known for its signature Venezuelan-inspired Avocado Sauce, creates original sauces representing flavors from different regions of the world. Venezuelan native Francisco Pavan and partner Todd Vine channeled their passion for discovery into the core values of the brand.
Poppilu
Melanie Kahn, Poppilu's founder, created this Chicago-based antioxidant lemonade brand. The drink features Midwest-­grown aronia berries, one of the highest antioxidant fruits in the world.
Quevos
Quevos are salty and crunchy egg-­white chips that are low in carbs and fat, and packed with protein. The disruptive brand was founded by college students Nick Hamburger and Zack Schreier.