Kroger Names C-store Head as New President & COO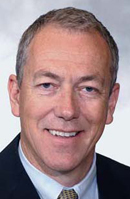 Michael L. Ellis
CINCINNATI -- Michael L. Ellis, who currently leads five of The Kroger Co.'s retail supermarket divisions, as well as its jewelry and convenience store businesses, will become president and chief operating officer (COO) of the Cincinnati-based company effective Jan. 1.
This appointment completes the company's leadership succession plan revealed in September. Also on Jan. 1, as CSNews Online previously reported, David B. Dillon, Kroger's chairman and CEO, will retire and continue to serve as chairman through Dec. 31, 2014. W. Rodney McMullen, Kroger's president and COO, will take over the CEO position.
Ellis has served in his current role as senior vice president of retail divisions since 2012. He previously served as president of Portland, Ore.-based Fred Meyer.
"Mike's broad-based experience on both the food and general merchandise sides of our business make him a great fit for this role," Dillon said. "Mike is a team builder who will be a great partner with our entire leadership team. We look forward to his dynamic leadership of Kroger's diverse operations."
As a 38-year Kroger veteran, Ellis joined Fred Meyer in 1975 as a parcel clerk and went on to serve in a series of operations and merchandising leadership positions in stores, division management and as a corporate officer. He was vice president of Fred Meyer's food group before joining The Kroger Co. as a senior officer in 2004. Ellis returned to lead Fred Meyer as president in 2006.
McMullen praised Ellis as a "key player in our strategic efforts for many years, including the expansion of Fred Meyer's general merchandising expertise throughout the company and, more recently, our accelerated growth plan."
The company expects its board of directors to elect Ellis at the next board meeting in December.
Kroger operates 784 convenience stores, along with 2,418 supermarkets and multidepartment stores in 31 states under two dozen banner names. Its c-store banners include Kwik Shop, Turkey Hill Minit Markets, Loaf N' Jug and Tom Thumb Food Stores.