11/26/2018
Kum & Go Moves to New Home in State-of-the-Art Krause Gateway Center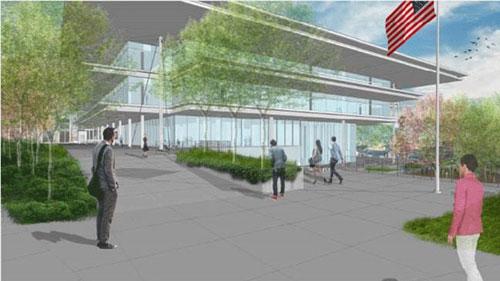 DES MOINES, Iowa — Three years after construction began, Kum & Go LC and the Krause family's eight other companies have moved into their new home at the Krause Gateway Center.
Located on the western edge of downtown Des Moines at 1459 Grand Ave., the facility is across the street from the John and Mary Pappajohn Sculpture Park, reported the Des Moines Register.
Designed by world-renowned Italian architect Renzo Piano, the building "is a work of art in itself," said Ryan Moffatt, the city's economic development project manager.
Kum & Go CEO Kyle Krause said the company didn't intend to create an artistic statement when it decided to move from West Des Moines to downtown, but he knows the building sends a message. 
"It's, 'we're here,'" Krause said Friday during a media tour of the building. "It's a permanent home for our family businesses. And I think as a family business ... you think about generations versus thinking about a shorter time period. This is a generational building." 
The six-story, 159,000-square-foot Krause Gateway Center cost nearly $150 million and took 4,000 tons of steel to support the six stories of heavy glass. That's about 50 pounds of steel per square foot, the Des Moines Register reported.
Krause Gateway Center houses all of Krause Holdings Inc.'s companies, including Kum & Go, Solar Transport, Des Moines Menace Soccer and Krause Holdings Real Estate. It's also home to support staff for Krause's Italian wineries, Vietti and Enrico Serafino, and Sharon Krause's organic sheep farm, Della Terra. When fully occupied, the facility has room for at least 800 people.
When fully occupied, the facility has room for nearly 800 people; however, desks aren't assigned to employees. Lockers are available to store personal belongings and employees can work anywhere they find space, including any of the tables that line the building's perimeter, offering bird's-eye views of the sculpture park. 
"We like to tell our associates they no longer have a 6-by-8 cubicle — their office is really 160,000-square-feet," said Niki DePhillips, senior vice president of Kum & Go store development.
Employee amenities include:
Work stations with treadmills and adjustable standing desks;

Game room with a ping pong table and TV's;

A workout facility that can be accessed 24 hours a day, seven days a week;

Shuffleboard;

Multiple coffee stations; and

Beer and wine.
Employees also have exclusive access to the fifth-floor terrace, which can hold up to 900 people for company parties, and a rooftop garden.
Some areas of the property are open to the public, including green with 128 mature trees; a plaza on the west side with interactive musical sculptures, chess tables, cafe tables and bocce ball; and a bike trail that runs along the perimeter. The first-floor lobby is also open to the public that will eventually have a cafe.
"We expect this to be a vibrant, public space," DePhillips said. 
A public tour of the Krause Gateway Center will be held from 9 a.m. to noon on Dec. 1. This will be the only public tour of the building for the foreseeable future. 
Participants must register online at www.krausegatewaycenter.com. The company is asking for a $20 donation to give to Central Iowa Shelter & Services. 
The company continues to work on a master plan for its other downtown properties, including the building across 15th Street, which is home to the Gas Lamp, according to the news outlet.