Kum & Go Rewards Winner in Cup Contest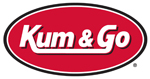 DES MOINES, Iowa -- Kum & Go this week awarded a winner in its "Name Our Kup" contest. Brad Gerndt, a Wells Fargo loss-control analyst and part-time community theater actor, received a supersized cardboard check after his name was drawn from a pool of roughly 100 people who submitted the winning cup name, "Go Kup," in the contest, the Des Moines Register reported.

Gerndt will receive $10,000 and a year's worth of free soft drinks for his role in helping the West Des Moines, Iowa-based convenience store chain come up with a name for its 32-ounce soft drink.

Kum & Go said the summer-long contest drew more than 30,000 entries. Names submitted throughout May and June were narrowed down to a list of five finalists, which were then voted on during the month of July via a special Web site. Voting required a code from a Kum & Go receipt. "Go Kup" ended up with roughly half the votes and was submitted by the most people.

Kevin Krause, senior vice president of marketing for Kum & Go, said the chain has committed to using "Go Kup" throughout its stores through the end of the year. The name could become permanent if it proves popular at that point, Krause told the newspaper.

"Go Kup really rolls off the tongue. It's an action statement ... and I'm all about action," said Gerndt, who plans to use his winning to help his two adult children, including a daughter with a disability, attend college. He also intends to pay bills, make a few charitable contributions and "take a chunk and have some fun with it," according to the report.