Kwik Trip Gets Fresh With New Smoothie Program
Get great content like this right in your inbox.
Subscribe

LA CROSSE, Wis. — Whether it's building a test kitchen to increase its ability to innovate or teaming up with the Partnership for a Healthier America to expand the number of healthy options available to its customers, convenience store chain Kwik Trip Inc. has been working to improve its food and beverage offerings for years now.
One of its latest initiatives, the Fresh Blends smoothie program, was prompted not by focus group testing or executive brainstorming, but rather by a weeknight trip to a Target store in the middle of winter.
"I'm watching people go to Starbucks and get smoothies and frappes when it's that cold outside in Wisconsin," recalled Paul Servais, retail foodservice director at Kwik Trip. "I'm thinking this is for real — we've got to do something with this."
However, being inspired by what he saw at Starbucks didn't mean becoming Starbucks.
"In our Kwik Trip world, we like to do everything self-service," Servais said. This meant the retailer wouldn't launch a barista program just to add smoothies, but the problem was the specific self-serve technology the Kwik Trip team had in mind didn't exist yet.
Servais and his team solved this problem by teaming with Welbilt Inc., which manufactures the machine it uses today, and Beverage Innovations Inc., which creates the drink mixes. Welbilt had already worked with McDonald's on blended cup technology, but that unit involved manual positioning of the cup. Kwik Trip sought a fully automated process.
"It took a while because you're basically inventing something that doesn't exist," Servais said.
In the fall of 2017, 30 Fresh Blender smoothie machines were placed in 30 Kwik Trip stores for a test period, during which time they went through some redesigns and menu changes.
"We learned a lot in a year," Servais said. "We learned what the right menu of drinks was, we learned what sizes we needed, a lot of work around the speed and how long it takes to make things, maintenance on the machine."
Some of the changes were prompted by strategic thinking. The initial plan was to offer two cup sizes — 16 ounces and 20 ounces — but after McDonald's came out with a 12-ounce frappe for $2, Kwik Trip knew it had to compete at that size, so it changed its plans to accommodate the option of a 12-ounce cup.
In October 2018, Kwik Trip moved forward with a full rollout, installing the Fresh Blender machines in roughly 600 stores in just 10 weeks. Installation finished before that Christmas.
"Right now, we're charged with promoting this, sampling it and selling the heck out of it," Servais said. "And that's what we're doing."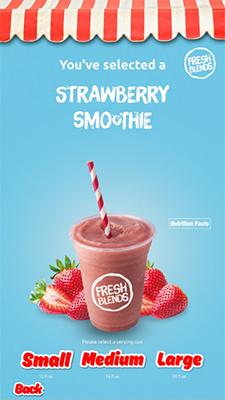 THe development process
Today, the Fresh Blends program provides a simple process for Kwik Trip customers, who only need to use the machine's touchscreen menu to select a drink category, flavor and cup size. Then, after placing the cup in the dispenser chamber, they stand back and watch as ice and smoothie ingredients are dispensed into the cup, the shuttle moves the cup into the blending chamber, and lastly the shuttle returns the cup to the customer for them to take and enjoy.
Joe Knauss, executive chef and director of innovation at Fresh Blends North America Inc., a brand of Beverage Innovations, praises Kwik Trip for being an eager but flexible partner.
"They adopted the program before the machines were even built," Knauss said. "They let me steer the way for what their menu should be."
The Fresh Blends menu features a variety of smoothies with 100 percent all-natural ingredients, real fruit and real dairy, but no artificial colors, flavors or high-fructose corn syrup. The blends are kosher certified and made in the United States.
Menu development for Kwik Trip started with the top smoothie flavors, such as strawberry and strawberry-banana. More innovative options followed, such as cold brew coffee shakes, which came from Kwik Trip's observation that it had a market for cold brew coffee, but not enough of one to avoid throwing away coffee at the end of the day.
"It's a frappe on steroids," Servais said of the cold brew shake, noting that it sets itself apart from standard frappes by putting the coffee flavor at the forefront instead of the chocolate or caramel blended with it. "Real coffee lovers, they love the drink."
There have been some missteps along the way, the executives acknowledged. For instance, while mango is usually a popular smoothie flavor, it was pulled from Kwik Trip's menu following low sales during the test period.
Overall, though, the Fresh Blends program is paying off for Kwik Trip.
"We're having a ton of success," Servais said.
Companywide, each Fresh Blends machine is seeing an average of 30 to 40 sales per day. A Duluth, Minn., store, "where it's basically winter until July," saw a high of 241 sales one day. Fresh Blends is also outselling Kwik Trip's f'real milkshake program, but without cutting into those sales, making it a solid addition rather than a replacement.
"So, we've had a lot of success in the middle of winter selling ice-cold blended drinks," said Servais. "It's crazy. It's awesome."
MAKING CONNECTIONS
Along with offering a simple process to Kwik Trip's customers, the Fresh Blender machines offer easy employee training via the machine's own touchscreen, and updates can be pushed out to all machines at once via Wi-Fi. The cleaning process is also simplified and automated through onscreen selection.
"We did not write a lot of training documents," Servais said. "We do all that onscreen."
As a Wi-Fi-connected device, the machines allow Kwik Trip to monitor performance and breakdowns of individual machines and troubleshoot from the office. The retailer can also monitor sales, looking at any location to review what is and isn't doing well, and make changes accordingly.
To market Fresh Blends, Kwik Trip has implemented a "Thirsty Thursday" recurring promotion, during which all drinks are a dollar off the entire day. This prompted a high trial rate and contributed to a very effective launch, according to Servais.
Starting this month, the chain is kicking off a six-week promotional campaign in support of Fresh Blends that includes digital and social platforms, billboards and radio advertising. Kwik Trip will additionally offer a four-week promotion that discounts all drinks by one dollar, in addition to Thirsty Thursdays.
"We've set some very aggressive store goals," Servais said. "One hundred [sales] per store per day." He is confident Kwik Trip will meet those goals.