Kwik Trip Shares Its Strategy on LEED Certification
LA CROSSE, Wis. -- In 2007, Kwik Trip Inc. assembled a team to begin investigating Leadership in Energy and Environmental Design (LEED) certification and design a store based on its requirements. Not only did the company want to continue its mission of being a leader and innovator in the convenience industry, but it also believed this was another way to set it apart from the competition. Plus, LEED would allow the retailer to apply metrics to its buildings.
"You can say you are building green locations, but the LEED system gives you scalable results," said Leah Berlin, development coordinator in the store engineering group at the La Crosse, Wis.-based convenience store chain, which has 385 Kwik Trip and Kwik Star locations.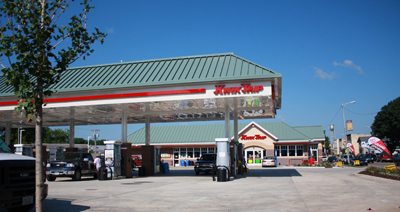 Now, Kwik Trip is continually going through the process of obtaining LEED certification for all of its new builds -- something not every company does, Berlin noted. "A lot of people say they are building to LEED standards, but Kwik Trip took the next step and said, 'If we are going to do this, then we should qualify it,'" she explained.
The chain's first LEED store opened in 2007 and was certified by 2008. Since then, the company has certified 15 stores at various levels, and another 24 are currently registered and in various parts of the LEED certification process.v "The reason we are able to do so many is because we build the same prototype over and over," said Berlin. "We looked at our original prototype, made the changes needed and now, it makes the submission or application process for certification easier."
The company is only certifying new builds because it does not have the manpower to change all of its existing stores, she said. However, Kwik Trip has gained some efficiencies in material buying, and when something needs to be replaced in an existing store, it will use the materials purchased for the LEED stores. For example, all the drywall used – both on new builds and remodels – is 97 and 99 percent recycled.
LEED Certification Changes
In order to meet the requirements of becoming a LEED-certified store, the c-store operator needed to make adjustments to its HVAC system and store lighting, and also began to look at the materials being used and where they were sourced.
"When we did a baseline, we realized we were partially there to begin with, but the biggest changes were HVAC and lighting – not necessarily how much light, but where it was placed," Berlin said.
The company also switched to building with concrete rather than asphalt – something they were looking at doing anyway because of longevity – which gave them extra points, according to Berlin. Additionally, the store locations previously featured an asphalt roof, but the new LEED builds use a metal roof with a white rubber interior from Firestone. Both of these options are more expensive, but longer-term products.
"Now, we have a 50-year roof vs. one we would have to replace in 10," she said.
While Kwik Trip had already begun to use a new energy management system from Emerson called E2, which is run from corporate, the system helped significantly in the move toward LEED-certified stores.
"We use the E2 to control the on and off of freezers and coolers, and also do demand load shedding," Berlin said. This helps the company manage the spikes in energy usage to avoid getting billed at a higher rate. "We can see a spike coming and can turn off the freezer or put it into defrost. Or we can turn the lights off. You save a lot of money, as well as have energy efficiencies," she explained.
For low-energy lighting, the company installed skylights from Solatube in the new locations – between 12 and 18 for each store – and staged the lighting with on and off photo sensors. Extra windows on the back and sides of the stores also provide more day lighting, and on the exterior, locations feature all LED (light-emitting diode) lighting. These had to be placed according to LEED requirements, and the outside lights also go on in stages so everything is not turned on at once.
"You could do it with other high-efficiency lights because there is a minimum number of watts you can have per square foot, but the LED wattage is so low and uses so much less energy, it was a no-brainer as far as costs," said Berlin. "Also, the cost of LED lights has really come down in the past few years."
The new stores also use LED lights in the coolers, which are now on a rack system rather than running six or seven compressors that are turning on and off throughout the day. "The rack is a bigger unit that runs everything. It pushes refrigeration units on as they need it, and the store is running one large unit vs. six or seven small units," she reported.
The rack system also provides heat for the water before it goes to the boiler, so the company doesn't have to pay to heat it. Instead, the stores are using free heat coming from the freezers and coolers, according to Berlin.
Upgraded restrooms have been driven by the LEED process as well and include low-flow toilets, faucets and urinals, which she said can be challenging because to qualify for LEED certification, the flow needs to be reduced by a certain percentage across the building and is constantly evolving.
"Before we were just offering low-flow toilets and that was sufficient, but the codes are starting to change, so we had to add the low-flow urinal," Berlin said. "The international plumbing code moved to a half-gallon per minute on lavatory faucets, and you can't really go much lower than that, so we needed to get the reduction in the toilets and urinals. It's been a challenging process to design them and get them working properly."
ROI and the Future
While it may seem that moving to LEED-certified stores is costly, Kwik Trip is seeing "pretty significant energy savings and water savings," from its LEED locations. When she runs the numbers, Berlin said the company is running in the 1-percent range for additional costs compared to its old prototype.
"There is ROI available and we have the economies of scale, so we can figure it all out," she said. "We have done it now for 18 stores, so there isn't a huge up-charge for us right now."
The company also saves money because it has in-house staff in charge of the project rather than relying on outside consultants, which can get "pretty expensive," said Berlin. The plan is to continue building all new stores to LEED certification standards, and when an existing location is in need of upgrades or reimaging, many of the LEED products and materials will be used. Berlin estimates 15 new stores will be built this year.