Kyle Krause and Wife Named Finalist for Iowa Star Award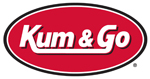 DES MOINES, Iowa -- Kum & Go President and CEO Kyle Krause and his wife, Sharon, are in the running for The Des Moines Register's ninth annual Iowa Star award, which honors individuals who work to promote unity, self-empowerment and self-sufficiency for all.
In addition to leading Kum & Go, Kyle is the owner of the Des Moines Menace, while Sharon owns Dalla Terra Ranch. In the past year, the couple pledged $250,000 to Mercy Medical Center's Million Little Reasons campaign; $25,000 to Iowa State University's College of Engineering Krause Scholarship; and $60,000 to Sacred Heart's Light for Tomorrow campaign.
Kum & Go also raised $140,000 for the United Way last year, with the convenience store chain matching employee donations, according to the newspaper report.
An independent panel of judges selected this year's finalists. The winners will be honored during a reception Feb. 9 at the Temple for Performing Arts in downtown Des Moines.
"Central Iowa is a more vibrant and caring place to live thanks to the hard work and dedication of these individuals and organizations," said Susan Patterson Plank, vice president of market development for the Des Moines Register. "It is important that we, as a community, recognize their contributions. And it is equally as important for those individuals and organizations to know how much our community appreciates their hard work."
The Iowa Star winner will receive a Steuben "Star Stream" crystal sculpture.