Love's Expands Sponsorship of Thunder NBA Team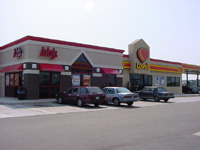 OKLAHOMA CITY, Okla. -- The Oklahoma City Thunder National Basketball Association (NBA) team announced new major corporate partnerships with Love's Travel Stops & Country Stores, and Hertz Corp., both of which are based here.

Through Love's partnership, the Ford Center's 300-level Loud City seating area will officially become Love's Loud City. As a result, Love's will work to enrich the fan experience for these sections already renowned for their boisterous atmosphere, according to a news release issued by the team.

"This is a great opportunity to expand our commitment to the Thunder organization, our community and the amazing Oklahoma Thunder fans," Love's Marketing Director Dave Frankenfield stated. "Love's official sponsorship of Love's Loud City broadens our platform and allows us to enhance the fan experience in numerous ways yet to be explored. Not to mention, Love's Loud City sounded too good to pass up and it sure has a nice ring to it, don't you think? Love's Loud City fans will have one more reason to 'bring the thunder' next season."

Thunder Vice President of Business Development John Croley said the expansion of these partnerships will augment the Thunder brand and enhance the fan experience.

"We are grateful for the strong corporate relationships we have built in the community, the successes of which are reflected by the expansion of these existing corporate partnerships with Hertz and Love's," Croley said in the news release. "These tremendous corporate citizens share our commitment to giving back to Thunder fans."

Family owned and operated, Love's Travel Stops & Country Stores has more than 260 travel center and convenience store locations in 38 states, and is currently ranked No. 15 on Forbes Magazine's annual list of America's largest privately held companies.