Love's Extends Exclusive Agreement with Pegasus TransTech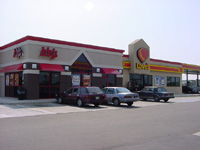 OKLAHOMA CITY, Okla. -- Love's Travel Stops signed a 10-year extension for its exclusive truck stop scanning agreement with Pegasus TransTech. The company's TRANSFLO Express scanning is available at all Love's Travel Stops in 38 states, including the 26 newly acquired locations formerly operated by Flying J and Pilot.

"We want to provide drivers with the services they want while on the road, and Pegasus TransTech is one of our partners that have helped us achieve that goal. We have extended our agreement to assure our customers we are with them for the long haul," stated Dave Frankenfield, Love's director of marketing.

"The success of this program is a testament to the full-service scanning TRANSFLO Express created, and is what our customers expect. Love's has begun investing in additional full-service TRANSFLO Express scan stations for our gas desk in our busiest scanning locations. We are confident that two full-service scan stations in these busy locations will set us apart from competitors and is the best way to meet the needs of our customers," Frankenfield continued.

With TRANSFLO Express, drivers simply hand their trip documents to a trained cashier for scanning. TRANSFLO Express sends the delivery documents electronically to the carrier for immediate access to billing and payroll documents, allowing fleets and drivers to get paid faster. TRANSFLO Express' scanning network includes more than 750 locations in the U.S. and Canada.

"The 10-year extension of our exclusive agreement, and the addition of more scan stations within Love's ensures that drivers will continue to experience great service for many years to come," Frank Adelman, senior vice president of Tampa, Fla.-based Pegasus TransTech, said in a statement.