Love's to Install DEF Pumps at 10 New Locations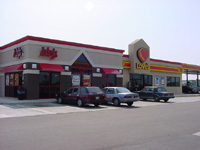 OKLAHOMA CITY, Okla. -- Love's Travel Stops plans to install Diesel Exhaust Fluid (DEF) pumps at 10 new locations over the next few months, according to DiscoverDEF.com.

Terry Ross, Vice President, Construction and Environmental Services at Love's Travel Stops & Country Stores, told DiscoverDEF.com: "We are locating DEF dispensers along customer identified corridors. We hope to have bulk Diesel Exhaust Fluid (DEF) at all of our locations in the future. The number of locations on-line by the end of next year will be driven by our customer's demand for Diesel Exhaust Fluid (DEF)."

The new locations will include Houston, Baxter, Tenn. and Greenwood, La. Ross also told the Web site, the company rolled out 2.5 gallon Diesel Exhaust Fluid jugs to all of its retail locations.

Love's installed its first pump in its Hinton, Okla. branch in April.