Love's to Open Sixth Ohio Location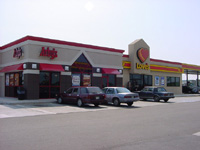 CONNEAUT, Ohio -- Love's Travel Stops and Country Stores expects to open its new Conneaut, Ohio location -- the chain's sixth in the state -- within the next three weeks, the Star Beacon reported.

The new location is a $6 million project years in the making, the report noted.

"It should be open by the end of the month, probably," said Christina Dukeman, spokesperson for the company headquartered in Oklahoma City, Okla. "We're thrilled to be there."

Workers are busy putting the finishing touches on the access road that will link the truck stop, fueling station, convenience store and restaurant complex to Route 7. Signs that loom more than 150 feet above Interstate 90 were installed a few weeks ago, the newspaper reported.

Love's has tried to open a store in Conneaut for more than four years.

Company officials said the location will have multiple fuel pumps, including diesel for trucks, as well as parking for 70 tractor-trailer rigs. Amenities for truckers and motorists alike will include an ATM, game room and a gift/sundries store that will sell clothing and a wide range of merchandise. Two restaurants -- McDonald's and Subway -- will complete the complex.

The entire operation should employ 35 to 50 people, Dukeman said.

Love's currently operates more than 200 stores in 30-plus states. The company opens about 15 new stores each year and has some 6,000 employees, according to the report.