Mach 1 Accelerates Through Digital Media
TEUTOPOLIS, Ill. -- This time last year, Meyer Oil Co.'s 13 company-owned and -operated Mach 1 convenience stores had no good read on their best customers, nor a plan to reach out and touch them. Mach 1 had a company website, of course, where self-motivated customers could log on and send a message if they so desired, but that kind of communication "was almost non-existent " -- about one e-mail a month, according to Alan Meyer, fuel manager for the family-owned business based in Teutopolis, Ill.
"We clearly had to get into the 21st Century with digital media," he told CSNews Online. "We knew we needed to improve our ability to communicate with customers and make it easier and more desirable for them to communicate with us."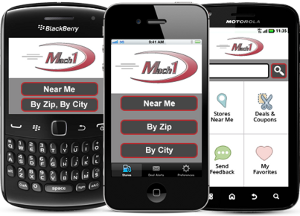 So, Meyer did a little research and discovered the digital marketing capabilities of turnkey solution OpenStore by Gas Buddy. By November, the retailer was signed on, and this February, Mach 1's new digital media went live. The chain now has in-store deals, contests, gas prices, directions to stores, job postings and a customer feedback section on its website; a social media presence on Facebook and Twitter; and a mobile application (app) that also promotes deals, offers coupons and alerts customers to rising gas prices a couple of hours ahead of time.
A loyalty card also has been created with a companywide rollout planned by year's end, according to Meyer.
The original goal was to promote its stores digitally as the Mach 1 brand and boost that brand to a more professional image, as well as create a good digital bond with its customers. "We wanted our people to feel they were getting something extra from us. We wanted them to see they could get a special deal that was only available if they downloaded the app or pulled it off our website," Meyer stated.
And the company also wanted its customers to know they could get the same deals at any Mach 1 c-store. "We wanted uniformity," he added.
Immediate Feedback
Since the February launch, the response has been pretty immediate and powerful.
"One of the things I wasn't expecting with this and my most pleasant surprise was how much feedback we're getting -- good, bad and indifferent. That one e-mail a month has turned into three [digital communications] a day," said Meyer. "Once you give people the tools to communicate, they want to tell you stuff -- how much they appreciate the deals, things they want you to improve upon, commenting on the gas prices, etc. I had no idea how much feedback we'd get."
Thanks to the single-dashboard reporting that OpenStore kicks back to the user, Meyer also saw the company sign on more than 500 customers to its website deal alerts in only two months, and in that same time period, 200 signed on for Android app alerts and 150 signed on for iPhone app alerts.
The Mach 1 Gas Price Alert, a text message feature, is the newest app, and it was signing on five to 10 customers per day in its first seven days. Generally, the feature is geared to alert customers two hours ahead of time that Mach 1 gas prices are going to go up; it does not reveal by how much.
The day Meyer spoke to CSNews Online, he also  reported that "we had 36 people view our website yesterday, 450 in the last week and 1,742 in the last month."
Those numbers, while expected to continually increase, aren't his only expectations -- Meyer also foresees increased sales and a good return-on-investment. One thing he is not anticipating is a lot of new customers, but rather, he wants to see existing customers shop Mach 1 stores even more.
"Generally what I've heard is that your average customer uses you for 40 percent to 50 percent of their gas and c-store purchases, but this thing is geared toward getting our customers to use us for 100 percent of their purchases," he relayed. "I want our customers to feel compelled to get all their gas from us and to use our stores nearby their work, as well as close to their home."
Meyer Oil was not the first c-store company to partner with OpenStore by GasBuddy, a concept launched in 2009. Rutter's Farm Stores was the first to sign on, and in addition to Meyer Oil, it has since been joined by Town Pump Inc., Thorntons Inc. and Hess Corp., to name a few.
"OpenStore was born from the natural demand of c-stores to have a social community of their own that is similar to GasBuddy, a crowd-sourced gas price information website," Dustin Coupal, co-founder of GasBuddy OpenStore Inc., told CSNews Online.
Coupal explained that as part of the OpenStore platform, c-stores get their own complete set of branded mobile apps, a dedicated website for each individual store, and a complete social marketing system, including couponing, feedback management and loyalty program integration.
"We realize how busy retailers are and what really appeals to them is having OpenStore as a single solution that includes all the features of text, e-mail, marketing, management apps -- everything exists in one single interface," said Coupal. "As digital marketing gets even more complicated, having all these features in one single dashboard is the key. The spinoff benefit is all the reporting comes back in one single location and it's easy to compare one to the other."
Dealing to the Young
For c-store customers who are most typically on the run, especially the younger set, digital marketing has high appeal.
"There's a younger demographic or generation becoming more aware of deals and offers that come out through mobile devices, and I think they tend to be more willing to take advantage of this than someone who 10 years ago was doing coupon clipping," Coupal maintained. "And in the economic times we're in, people are turning to these very easy mobile deals and coupons to guide their purchasing behaviors."
Meyer recognized this and that's why he knew he had to upgrade Mach 1 stores to a higher digital plane.
"Our customers under 30 are very excited to see [digital] deals and what we have to offer," he said. "A person under 30 expects the places where they do business to have a social media aspect for them. And as time goes on, if you don't have something like this in place, you will be left out in the cold."