MAPCO Gives Customers MY Rewards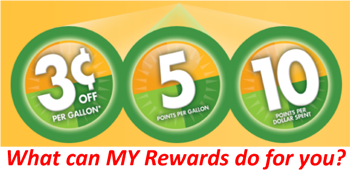 BRENTWOOD, Tenn. -- MAPCO is well into its launch of a new loyalty program, MY Rewards, offering customers gas discounts, giveaways, free in-store items, "club" discounts, and random rewards.
The program was introduced in the Nashville market starting in late January with an eight-phased rollout completed throughout the area by the end of March. The Georgia market is undergoing the current rollout -- 13 stores are on board with the program and more locations are coming soon, according to the company's rewards-devoted website, www.mapcorewards.com.
Once a customer becomes a MAPCO MY Rewards member, every purchase counts toward their next reward. Customers pre-select the rewards that matter most to them: gas discounts, free in-store items or gift cards.
MAPCO MY Rewards members are also automatically enrolled in all of the program's "Clubs", which include:
MY Cups: "Buy 6 Java/Fizz/Freezie cups and get 7th Free"
MY Brand: "DOUBLE points on all MY brand products"
Milk: "Buy 10 gallons, get the 11th Free"
MY Natural Choice: "Buy 6 bags of fruits or vegetables and get 7th Free"
Prepaid: "ALL prepaid cards earn DOUBLE points per $1 -- excludes MAPCO gift cards."
Program giveaways, which require card registration, include free gas for a year, a TomTom global positioning satellite (GPS) system and MAPCO gift cards.
For those customers who do not have Internet access, there is even an in-store MAPCO MY Rewards kiosk where they can register their MAPCO My Rewards card, select reward levels and manage their account.