MAPCO's 'Mega Store' Makes an Impression
SHERWOOD, Ark. -- Walking into MAPCO Express' new "mega store" prototype during a recent trip to central Arkansas, we were immediately struck with a whole host of words to describe it: "bright," "friendly," "spacious," "fresh," "comfortable" and "unique."
The first-of-its-kind MAPCO Mart opened in November on Highway 107 in Sherwood, Ark., just a few miles outside of Little Rock. The large-format convenience store is unlike any MAPCO store we've seen and far different than the two other MAPCO Mart locations we checked out in the area on our way to the new build in Sherwood.
MAPCO Express, the retail segment of publicly traded Brentwood, Tenn.-based Delek US Holdings Inc., has said that it will be aggressive in building more of these mega stores in the near future -- up to 10 to 12 per year, with the majority being built in Arkansas.
Not surprisingly, the mega store is roughly double the size of MAPCO's traditional store footprint, and the layout is more distinctive as well. Upon entering the front entrance, there is a clear separation of packaged goods vs. foodservice offerings, with packaged items filling the left-hand side of the store and foodservice taking up the right side. Running down the center is a divider featuring a grab-and-go cold case on one side and a seating bar on the other.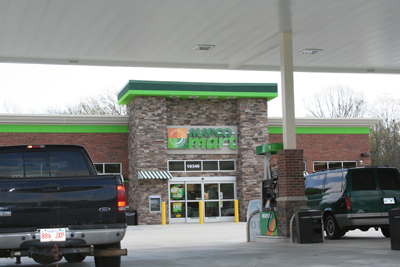 On the packaged goods side, you find all the usual convenience store categories, including candy, snacks, grocery and general merchandise. One immediately notices the emphasis MAPCO is placing on its private label products, as many end-caps feature the retailer's proprietary items. The private-label push is also apparent in the beverage coolers that line the farthest wall to the left, where MAPCO uses window clings to frame those shelves containing its private label drinks, challenging customers to compare its value against the brand names.
MAPCO executives told CSNews Online in the fall that the company is aiming for private label sales to comprise as much as 10 percent of total merchandise sales long-term. At the time, the chain was selling more than 220 private label SKUs in its nearly 400 stores, including spring and purified water, soft drinks, snacks, cold grab-and-go items, candy, cigarettes, dry grocery goods, children's drinks, teas, energy drinks, energy shots, refrigerated juices, vitamin-enhanced waters, automotive supplies and other general merchandise.
In addition to private label, MAPCO has stated many times that foodservice is another of its strategic focuses -- and that's obvious in the new prototype. On the foodservice side of the store, the focal point is MY Top Ten Subs & Sliders, MAPCO's quick-service restaurant (QSR) brand that debuted last April after a year of research and development and customer feedback.
The concept is focused mainly on the lunch and dinner dayparts, dishing up hot (toasted) and cold sandwiches, salads, chicken tenders, kids' meals, and sides such as tomato soup, potato wedges and cut green apple with yogurt dip. "MY Breakfast" sandwiches also are on the menu.
To place an order, you fill out a paper form -- there's one for the sandwich lineup and another for the salads, chicken tenders and kids' meals -- and hand it to an employee behind the counter.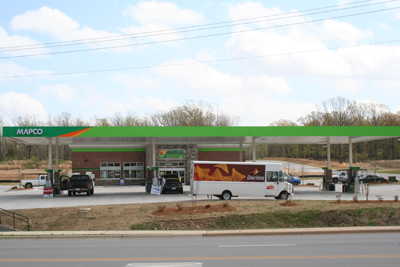 When ordering a sandwich, you check off the size you want (slider, regular or footlong); choice of bread (white, wheat or everything); toasted or not toasted; and finally the specific sandwich variety you'd like. You can opt for a "Make It YOUR Way" creation, whereby you choose from among the many meats, cheeses, spreads and toppings available, or you can order one of the "Chef's Creations." These include categories like MY Roast Beef, MY Vegetarian, MY Tuna, MY Grilled Cheese and more, under which the customer can then select from different varieties. For instance, three options are offered under MY Roast Beef: Chicago Beef, Beef & Cheddar, and French Dip.
Customers preferring a salad get to customize, too. Those opting for "MY Way" can choose from an array of meats, cheeses, toppings and dressings. "Chef's Creations" include Antipasto, Chef, Turkey Club, Grilled/Fried Chicken Caesar and Oriental Grilled/Fried Chicken salads.
We arrived at lunchtime and tried out a "Make It YOUR Way" turkey slider and a "Chef's Creations" Chicken Parmesan 6-inch sub. Both were tasty, satisfying and a good value. Sliders are priced at $2.79; regular subs at $4.99; and footlongs at $7.59. We paired our sandwiches with MAPCO private label beverages -- a water and a diet strawberry lemonade -- which are cleverly merchandised in an open-air cooler right next to the MY Top Ten Subs & Sliders concept.
Aside from the seating bar in the center of the store, there are four tables each with four chairs set up inside and three tables outside. The inside tables offer an enticing view of the store's cold and frozen beverage selections, which consist of a 16-head fountain unit, two varieties of MY Iced Tea (sweet and unsweet), four flavors of frozen beverages and two varieties of frozen coffee (French vanilla and Mocha). MAPCO has created a "Fizzy Lizzie" bubble character to brand its fountain beverages and a "Brainy Brian" ice cube character for its frozen beverages.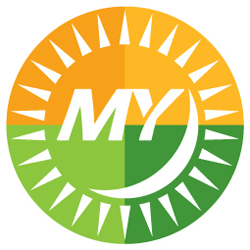 Overall, the store has a very fresh look and feel. The color scheme is a mix of burnt orange on the walls accented by lime-green graphics, particularly the "MY" icon that is used substantially.
In our opinion, MAPCO's mega store lives up to its billing.