Marathon Petroleum Executive VP Announces Retirement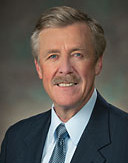 Garry L. Peiffer
FINDLAY, Ohio -- Garry L. Peiffer, executive vice president of corporate planning and investor and government relations for Speedway parent company Marathon Petroleum Corp. (MPC), intends to retire effective Jan. 1.
Throughout the past 39 years, Peiffer has made significant contributions to the success of the company, said MPC President and CEO Gary R. Heminger.
"His leadership was instrumental as we charted the course for a joint venture between Marathon and Ashland in 1998, and then again when MPC was launched in 2011," Heminger stated. "His knowledge of the business has provided a depth of insight and counsel that cannot be matched. Garry has held numerous leadership positions and has been a true ambassador for MPC, representing the company well with our numerous stakeholders, including investors, industry analysts and elected officials."
Peiffer, a graduate of Bowling Green State University with a bachelor's degree in accounting, joined Marathon Oil in 1974. He held numerous management positions, including supervisor of employee savings and retirement plans, controller of Speedway Petroleum Corp., and several other marketing and logistics positions.
In 1987, Peiffer was appointed to the president's Commission on Executive Exchange and served a year in the Pentagon as special assistant to the assistant secretary of defense for production and logistics. In 1988, he returned to Marathon and was named vice president of finance and administration for Emro Marketing Co. He also served as assistant controller for refining, marketing and transportation beginning in 1992, and became senior vice president of finance and commercial services for Marathon Ashland Petroleum LLC in 1998.
Peiffer was appointed to his current position in July 2011 and became president of MPLX GP LLC in 2012. He also serves on MPLX's board of directors.
He is a member of the Blanchard Valley Health System board of trustees; the Blanchard Valley Port Authority board; the Fifth Third Bank (Northwestern Ohio) board of directors; and the Findlay-Hancock County Community Foundation board of trustees.
"I am appreciative of Garry's many years of service and commitment to the company," added Heminger. "I wish him and his family well in the coming years."