05/21/2018
Maverik Continues to Add Fire to Its BonFire Food Program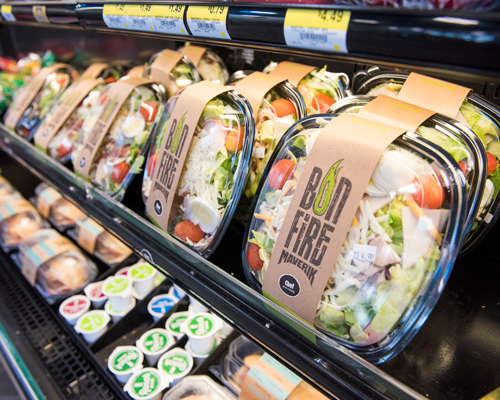 SALT LAKE CITY — Rich Green, director of foodservice for Maverik Inc., recalls that when he joined the Salt Lake City-based convenience store chain 13 years ago, Maverik's foodservice program centered on baking its own fresh bread in-store at every location.
Aside from that, Maverik offered "the typical convenience store fare." The largely grab-and-go offering was solid, but had little to set it apart from competitors' foodservice programs, according to Green.
This led to the development of the BonFire brand. Launched in 2009 alongside a revamp of Maverik's Bodacious Bean coffee program, BonFire tied Maverik's food items together under a single identity with an adventurous theme and color-coded labels based on the type of product, such as a red flame for high-traffic hot items and a green flame for fruit and salads.
By the fall of 2013, the company was ready to move Maverik and BonFire to the next level.
Enter Maverik's new BonFire Grill made-to-order program.
"Sales were kind of flat. We were in growth mode, trying to figure out what foodservice meant to us and what the next five years looked like," Green recounted.
The team gathered and came up with some guiding principles to help the retailer along the journey. These included: a serious focus on "fresh," a goal of becoming destination-worthy; and a unique presence in Maverik's operating footprint and in the convenience channel.
"We wanted to give customers a reason to come to Maverik to eat; something they can't get anywhere else," Green said.
The BonFire Grill concept, an open kitchen where customers can spectate the preparation of items like pizza and tacos, began testing in late 2014 and is now included in all new-build Maverik stores. In 2015, Maverik underwent a store redesign that places food front and center, making its foodservice offerings visually prominent inside the stores and increasing sales by huge numbers in some of the updated stores.
"That effort, particularly in new stores, definitely swung the pendulum more toward foodservice," Green said.
Other significant moves by Maverik to build up its foodservice program include:
Experimenting with creative, "out of the box" limited-time offers (LTOs), some of which became mainstays on the menu, like the M.O.A.B. (Mother of All Burritos).

Reexamining what went into its products and improving the quality to become a more ingredient-based operation

Hiring a new corporate chef who brought a different perspective to the business. Chef Kyle Lore spent much of his career working in fine-dining restaurants.

Creating a taste profile that is spicier and more flavorful — something that differs from its competitors, which include quick-service and fast-casual outlets, as well as other convenience stores.
Upcoming developments for Maverik may include a made-to-order beverage program, which the company is in the initial stages of exploring. Green acknowledges that such a program is a "tough one" for the company, describing how he's observed sudden beverage orders like a made-to-order milkshake disrupt the rhythm of the kitchen.
Working with third-party delivery services, such as Uber Eats or DoorDash, is also something the company is exploring. However, the logistics are more complicated than they seem, particularly when taking into account the multiple delivery services customers use and the labor necessary to fulfill delivery orders during all dayparts, Green explained.
Whatever new additions the company might make in the future, Maverik wants to be sure it has mastered its existing program and delivers it right to customers every day.
"We've had so much rapid growth, focused so much on innovation and program development," Green said. "We're stepping back and looking at how we can hone and simplify our existing operation, get it humming like a well-oiled machine."
Check out the May issue of Convenience Store News for more on Maverik's foodservice journey.