Maverik Opens 220th Store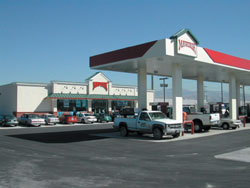 FRUITLAND, Idaho -- Maverik Inc.'s 220th convenience store and gas station opened here last week. The store is the first Maverik to offer a semi-truck diesel island, the Argus Observer reported.
"It is nearly impossible to access the gas pumps in Payette [Idaho] when a semi-truck is getting fuel on one of the end pumps," Maverik's Executive Regional Manager Steve Taylor told the newspaper. "This will be a benefit to not only the store, but to the drivers of all vehicles. Their island is located way out, so it's easy to get to and out of the way."
The Fruitland City Council approved the Maverik store in March and construction began in late April. The site has two access points, one off U.S. Highway 95 and the other on Northwest Fourth Street. Like all Maverik stores, this location features an adventure theme, and is one of the chain's larger stores at 4,200 square feet, according to the retailer.
The new Maverik in Fruitland employs about 15 people.
"We're excited to be here in Fruitland," Taylor said. "We're very strong in Boise and Nampa, having about 20-plus stores over in that area. So coming this way is very cool."
Currently Maverik operates convenience stores in eight intermountain states. The retailer will soon open stores in Oregon and Washington as well. Washington will gain its first Maverik store at the end of December, and another store is now under construction in Oregon.