Maverik Seeks to Thrill With Loyalty 2.0
NORTH SALT LAKE CITY, Utah -- As "Adventure's First Stop," Maverik Inc. wants every aspect of its customer experience to thrill, including its loyalty program. Realizing that its existing Adventure Club Card wasn't going as far as it could in the thrill department, the convenience store chain began last year developing a more robust rewards program dubbed "Loyalty 2.0."
After months and months of research, development and testing, the new program fully launches today and promises to engage every customer type and deliver richer shopper data.
Loyalty 2.0 is "a very complex, robust rewards program," Ernie Harker, executive director of Create, Maverik's marketing department, told CSNews Online. "The old program wasn't as engaging as it could be. I could earn points for purchases and those points were converted into gift cards, and then I could use those cards to purchase gas or in-store items. We knew we needed a new rewards program that would engage every customer profile."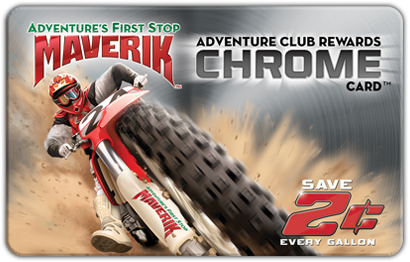 Working with Radiant Systems' Loyalty Manager (RLM), the new program is still points based, but now those "Trail Points" don't expire and customers have more options in which to use them. They can go online and use their accumulated points to buy Maverik merchandise, purchase Maverik gift cards, get multiple entries into contests or donate to a charity.
Under the new program, Maverik also introduces two levels of loyalty cards. The Chrome Card offers a 2-cent instant pump rollback, while the Black Card is an automated clearing house (ACH) debit card and offers a 6-cent pump rollback. Black Card holders additionally get Maverik's new "Competitive Price Match" guarantee. In the rare event that a local qualified competitor's fuel is priced below the 6-cent discount, Maverik will roll back its price to match it.
Along with the instant fuel discounts, both cards enable customers to earn points on in-store purchases, with Black Card holders earning double the Trail Points every day except on Tuesdays when every eligible in-store purchase is tripled for "Triple Trail Point Tuesday."
Support for Maverik's old Adventure Club Card ended yesterday, meaning existing cardholders will have to sign up for one of the new options. Once registered, customers can either show their card or enter their phone number at checkout to receive the fuel discounts and other benefits.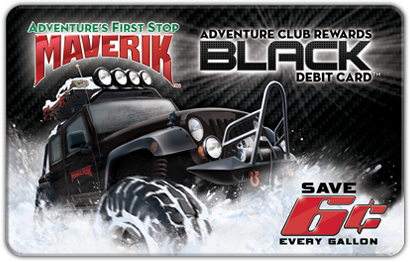 Both cards also incorporate Punch-It!, Maverik's new virtual punch-card program, which gives customers the perks of buy-10-get-one-free paper punch cards without the hassle of keeping track of them. Punch-It! deals include fountain drinks, frozen yogurt, hot beverages and more.
In tandem with the new loyalty program, Maverik launched version 2.0 of its proprietary mobile application (app), which was introduced a year and a half ago. Through the app, cardholders now have a variety of information available at their fingertips, including offers targeted to their individual preferences. On the app, they can create a new Chrome Card account, activate their card, edit their profile and preferences, track Punch-It! progress and redeem Trail Points.
"We see this as a very important medium for us," said Brad Call, Maverik's vice president of Adventure Culture. "The smartphone is the future and the app is the medium. I want Maverik to be the preeminent marketer in the marketplace when it comes to mobile technologies."
Perhaps the biggest difference of the new loyalty program vs. the old one, though, is that the new program is real-time. Now, when a loyalty card is swiped, it goes to the host and immediately recognizes who it is and what rewards they have available. This makes the program user-friendly and also presents Maverik with greater opportunities to market to customers when they're in the stores and more effectively target customer types.
Harker told CSNews Online that Loyalty 2.0 was developed with the input of Maverik's customer segment teams, which are organized around seven customer segments that Maverik identified (with the help of an outside consultant) as key to its business. One team oversees Blue Collar Workers and Hispanics. A second team focuses on Emerging Adults and Adventurers, while the third team concentrates on Women with Children, White Collar and Healthy Lifestyle.
With the help of the customer segment teams, Maverik spent a great deal of time considering what type of loyalty program features would resonate with each customer segment. This information was then used to develop the new program, which addresses most of those desires.
Through the new program, Maverik intends to target its promotions and contests to the different customer segments. Sweepstakes, for one, will include a more diverse set of prizes.