Maverik's Vegas Bet Appears to be Paying Off
LAS VEGAS – Adventure's First Stop's first excursion to Las Vegas appears to be a good one.
CSNews Online recently visited Maverik Inc.'s first Vegas convenience store, located at 10490 Bermuda Road, and observed traffic flowing steadily throughout the store, which opened in December.
The location is situated just a few miles away from the Las Vegas Strip and is close to several 7-Eleven locations and a Walmart store.
Entering the lot, it's clear that the new Maverik store aims to be different in several ways. Once you pass the gas pumps and approach the c-store, Maverik's "Adventure's First Stop" slogan is prominently displayed and several digital television screens rotating promotions are instantly visible.
On the right side of the store, the retailer's proprietary Bodacious Bean Mountain coffee, hot chocolate and cappuccino machines are spotted first, aptly merchandised next to a large selection of Krispy Kreme doughnuts.
To the far right, sev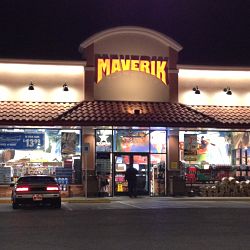 en slot machines -- a Las Vegas staple -- are featured in a separate area, divided by a see-through pane of glass.
Exploring the c-store further finds several frozen yogurt machines, two ICEE dispensers and a large selection of packaged and malt beverages, including several cases of Maverik's private label water on display.
Candy and snacks are another big focus in the new Maverik store. An entire aisle is devoted to gummy bears and related candy products.
Just before exiting the store, customers can use Maverik's bill pay machine, which allows for instant payments to a host of cellular and cable providers.
According to Maverik's website, the c-store operator will open three more locations in the Las Vegas area soon. As CSNews Online reported in December, Maverik plans to expand in both new and existing markets, according to Dan Murray, vice president of Growth Tsunami, Maverik's real estate and construction department.
"You grow or you die," Murray said in an earlier interview with CSNews Online.
Maverik is already a staple c-store brand in many western states, including Utah, Idaho, Wyoming and northern Arizona.