McDonald's Healthy Focus Shifts to Happy Meals
Get great content like this right in your inbox.
Subscribe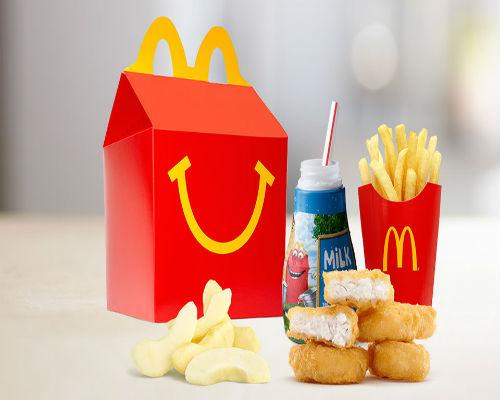 OAK BROOK, Ill. — McDonald's is expanding its commitment to families by supporting one of the company's long-term global growth plans by leveraging its reach to impact children's meals.
By 2022, the fast food giant will make improvements to the Happy Meal menu across 120 markets to: offer more balanced meals; simplify ingredients; continue to be transparent with Happy Meal nutrition information; reinforce responsible marketing to children; and leverage innovative marketing to help impact the purchase of foods and beverages that contain recommended food groups in Happy Meals.
"We recognize the opportunity that we have to support families as one of the most visited restaurants in the world, and remain committed to elevating our food, celebrating the joy of reading, and helping those in need through Ronald McDonald House Charities," said McDonald's President and CEO Steve Easterbrook. "Given our scale and reach, we hope these actions will bring more choices to consumers and uniquely benefit millions of families, which are important steps as we build a better McDonald's."
In 2013, the company began working with the nonprofit Alliance for Healthier Generation to develop a comprehensive plan for 20 major markets to increase customers' access to fruit, vegetables, low-fat dairy and water. According to McDonald's, many of those markets are ahead of schedule in their progress on those prior commitments. 
Today, the company's plans to further its efforts with Alliance for Healthier Generation are as follows:
Offer balanced meals. By the end of 2022, at least 50 percent or more of the Happy Meals listed on menus in each market will meet McDonald's new Global Happy Meal Nutrition Criteria of less than or equal to 600 calories; 10 percent of calories from saturated fat; 650 milligrams of sodium; and 10 percent of calories from added sugar. According to McDonald's, 28 percent of Happy Meal combinations offered on menu boards in 20 major markets currently meet these new nutrition criteria.
Simplify ingredients. Markets will prioritize Happy Meals and simplify ingredients by removing artificial flavors, added colors from artificial sources, and reducing artificial preservatives where feasible. In 2016, McDonald's USA removed artificial preservatives from Chicken McNuggets, which also have no artificial flavors and colors. Chicken McNuggets from McDonald's France and Canada also have no artificial flavors, colors or preservatives.
Happy Meal nutrition information transparency. The company has made a continuous effort to meet consumers' desire for easy access to nutrition information for menu items it serves with a goal of ensuring that nutrition information for Happy Meals is available and accessible through all McDonald's owned websites and mobile apps used for ordering where they exist.
Market responsibly. Under the new goals, all Happy Meal bundles advertised to children will meet McDonald's new global nutrition criteria, and will continue to meet any existing local/regional advertising pledges with respect to marketing to children. 
Leverage marketing innovation. McDonald's plans to also leverage innovative marketing to help increase the purchase of foods and beverages that contain recommended food groups in Happy Meals. The company will leverage marketing through packaging and promotions and use of new technologies, such as kiosks and mobile apps, to help serve more fruit, vegetables, low-fat dairy, whole grains, lean protein and water in Happy Meals. 
The Year of Changes
McDonald's says customers in the United States will see accelerated changes to the Happy Meal menu this year. In June, 100 percent of the meal combinations offered on Happy Meal menuboards in the U.S. will be 600 calories or fewer, and 100 percent of those meal combinations will be compliant with the new nutrition criteria for added sugar, saturated fat; and 78 percent compliant with the new sodium criteria.
In further moves, McDonald's will be:
Listing only the following entrée choices: Hamburger, four-piece and six-piece Chicken McNuggets. The Cheeseburger will only be available at a customer's request. 

Replacing the small French fries with kids-sized fries in the six-piece Chicken McNugget meal, which decreases the calories and sodium in the fries serving by half.

Reformulating chocolate milk to reduce the amount of added sugar. During this period, chocolate milk will no longer be listed on the Happy Meal menu, but will be available at a customer's request.

Adding bottled water as a featured beverage choice on Happy Meal menu boards later this year.
In December, McDonald's USA also completed the transition to Honest Kids Appley Ever After organic juice drink, which has 45 less calories and half the total sugar than the prior 100-percent apple juice served in the U.S.  
According to the company, there will be average reductions of 20 percent in calories; 50 percent in added sugars; 13 percent in saturated fat; and/or 17 percent in sodium, depending on the customer's specific meal selection with these planned menu updates.
These reductions reflect the average nutrition data of U.S. Happy Meal offerings on the menu last year compared to those planned for later this year.  Already, several of the Happy Meal combinations available on U.S. menu boards today meet the new nutrition criteria and will not be changing.
McDonald's USA made similar changes in 2013 as part of its commitment with Healthier Generation to remove soda from the Happy Meal section of its menu boards, which has resulted in a 14-percentage point increase in the number of Happy Meals ordered that include water, milk or juice as their beverage choice. 
In December 2013, customers chose water, milk or juice as their beverage choice in 38 percent of Happy Meals and that number increased to 52 percent in December 2017. During that same period, the number of Happy Meals that included soda and other beverages decreased from 62 percent to 48 percent. For the first time, more than half of Happy Meals ordered in the U.S. have included water, milk or juice as their beverage of choice, according to the company.
"As a nutritionist and a mom, this is a pivotal moment as we unveil new, ambitious goals in collaboration with Healthier Generation that we hope will positively impact families around the world," said Julia Braun, registered dietitian and head of Global Nutrition at McDonald's. "Our efforts have led to big changes and real progress and as part of our continued food journey, we're committed to making it easier for families to choose balanced options that will make measurable differences." 
McDonald's will work with Healthier Generation and an independent, third-party to measure and publicly report progress every two years.
Headquartered in Oak Brook, McDonald's operates more than 37,000 locations in more than 100 countries.