McDonald's McCafé Relaunches With New Espresso Drinks
Get great content like this right in your inbox.
Subscribe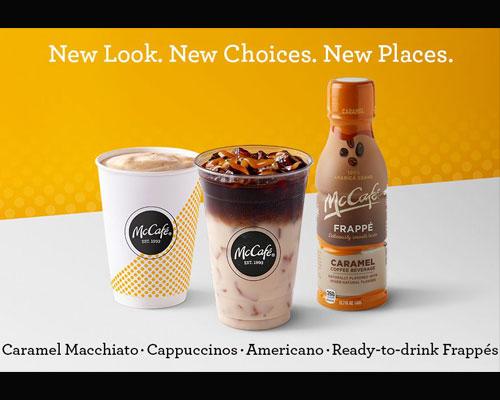 OAK BROOK, Ill. — McDonald's McCafé is getting a revamp.
The fast food giant relaunched its McCafé specialty drink program, introducing a new look, new café-quality espresso beverages and expanded retail offerings. The move is part of McDonald's commitment to raise the bar for its customers.
The expanded offerings include the introduction of new café-quality espresso beverages to the McCafé lineup. The new drinks — in addition to recrafted lattes and mochas — are made with freshly grounded espresso and U.S.-sourced whole or nonfat milk.
The new beverage lineup includes:
Caramel Macchiato: Available hot or iced, the rich, dark-roast espresso drink is served with whole or nonfat milk, mixed with sweet caramel syrup and topped with ribbons of caramel drizzle.
Cappuccino: The coffee drink is made with whole or nonfat steamed milk, bold espresso made from sustainably sourced beans, foam and the choice of French vanilla, caramel or hazelnut flavor.
Americano: Brewed fresh with dark, rich espresso, the coffee has a strong, bold flavor.

"Our new McCafé beverages start with 100-percent Arabica beans that are freshly ground and skillfully made on demand," said Chef Dan Coudreaut, vice president, Culinary Innovation, McDonald's USA. "Coffee traditions are part of our culture and our talented crew members have been trained to handcraft our beverages as we work to elevate our coffee experience."
As part of the relaunch, for a limited time at participating locations, McDonald's will offer any small McCafé specialty beverage — including the newest offerings — for $2.
McDonald's recommitment to McCafé also extends to its coffee makers. The company introduced new coffee makers, allowing for the new espresso-based beverages to be handcrafted with a consistent, flavorful taste, McDonald's stated. The rollout will reach 14,000 restaurants and include training for employees to ensure the coffee's quality.
McCafé will also receive a new brand logo and packaging that will evolve with the seasons. McDonald's will begin transitioning to an updated and expanded McCafé presence in-restaurant with a sleek, modern look in 2018 as part of its evolving "Experience of the Future."
As part of its 2018 plans, McCafé will also expand its retail presence by partnering with The Coca-Cola Co. to introduce a line of ready-to-drink McCafé Frappé beverages in three flavors: caramel, vanilla and mocha. The bottled drinks will join the line of whole bean, ground and single-serve coffee currently available in retail stores across the U.S.
"This is just the start of our McCafé commitment," said Chris Kempczinski, president for McDonald's USA. "We understand how important the coffee culture is for consumers and we are committed to meeting that demand at the taste, convenience and value only McDonald's can offer. This is a central part of our growth strategy and we can't wait to share what's next."
The first McCafé opened in Melbourne, Victoria, Australia in 1993. McCafé coffees, including lattes, cappuccinos and mochas, were added to the U.S. national menu in 2009, and expanded to include blended ice frappes, smoothies, triple-thick shakes and limited-time seasonal offerings.
Oak Brook-based McDonald's USA LLC serves more than 25 million customers daily at 14,000 U.S. restaurants.