McLane's 2018 National Trade Show Opens in Orlando for Sun, Sand & Sales
Get great content like this right in your inbox.
Subscribe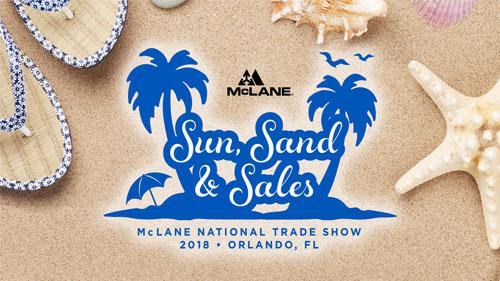 ORLANDO, Fla. — The 2018 McLane Co. Inc. National Trade Show — which centers on "Sun, Sand and Sales" — kicked off in Orlando for two days focusing on hot topics impacting the grocery and foodservice categories.
This year, the annual event will showcase nearly 200 exhibitors, host more than 1,200 attendees and feature celebrities, guest speakers and special appearances from a variety of top global firms and organizations.
The all-star speaker lineup includes:
Joe Theismann, keynote speaker and former Washington Redskins quarterback and world-class entrepreneur
Deon Johnson, vice president of Customer Technology at McLane
Nancy Todys, director, Convenience and Vending Channel Marketing at Tyson Foods
Cassandra Matos, product director at McLane
Kathy Sparrow, executive vice president of Marketing and Sales at ITG Brands
Teresa Voelter, product director at McLane Co. and general manager of Consumer Value Products (CVP)
Attendees will also have the opportunity to meet former Dallas Cowboy and National Football League Hall of Famer Randy White, as well as NASCAR driver Clint Bowyer.
For the third consecutive year, McLane will host an interactive foodservice booth experience under the banner of McLane Kitchen, a foodservice solution for generating optimum sales and profits for retailers that offers easy-to-implement turnkey solutions, as well as comprehensive, custom solutions.
The booth will spotlight a fully functioning kitchen with multiple chefs and new menu offerings, including: baked chicken from Tyson Foods, Totino's Foodservice pizza rolls and a stuffed waffle from General Mills. Additionally, McLane Kitchen and McLane's private label products subsidiary, CVP, join forces for the debut of a new pizza program: Fly Guys Pizza.
CVP will offer tradeshow-only deals, giveaways and new-brand and product launches, including:
Fly Guys Pizza, offered as a take-and-bake option for consumers in the frozen section;

Beau Dacious, CVP's line of dog treats and accessories will debut new leashes and bowls; and

YumBees will debut assorted fruit snacks and dinosaur fruit snacks.
CVP products are available to both McLane and non-McLane customers, and are currently offered at retail locations nationwide.
Meanwhile, at the technology booth, Johnson will be available to discuss new advancements in McLane's powerfully simple technology offerings. The newest feature is the Mobile Virtual Trade Show application for Apple and Android devices.
Highlights from the trade show will be posted to the McLane Twitter (@McLaneCo) and Facebook (@McLaneCompany) channels.
The 2018 McLane National Trade Show is taking place Sept. 5-6 at Orlando's Rosen Shingle Creek Hotel.
Temple, Texas-based McLane Co. Inc. is one of the largest supply chain services leaders, providing grocery and foodservice supply chain solutions for convenience stores, mass merchants, drug stores and chain restaurants throughout the U.S. McLane, through McLane Grocery and McLane Foodservice, operates more 80 distribution centers across the U.S. and one of the nation's largest private fleets. In addition, McLane provides alcoholic beverage distribution through its wholly owned subsidiary, Empire Distributors Inc. McLane is a wholly owned unit of Berkshire Hathaway Inc.