Meet Retail's New Key Customer Segment: The Spendsetters
Get great content like this right in your inbox.
Subscribe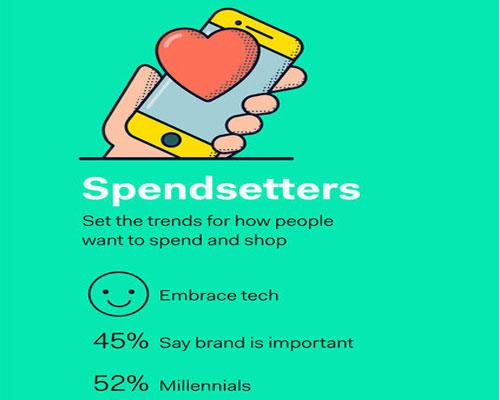 NATIONAL REPORT — To compete effectively in today's environment, retailers must go beyond selling a product or service to delivering experiences that cater to customers' unique needs, according to The Cost of Convenience, a new survey from Adyen.
Over the last 12 months, 86 percent of U.S. consumers say they have left a store due to long lines, resulting in purchases at a different retailer or no purchase at all. This results in approximately $37.7 billion lost in potential sales. In addition, $1.1 billion in potential sales have been lost when retailers don't support their customers' preferred payment methods, the survey found.
A key segment emerged in the study, coined "Spendsetters." This group loves to use technology, tends to be early adopters and represents one-third of all consumers and 52 percent of millennials.
According to Adyen, spendsetters will drive the future of retail as the key segment of shoppers who set the trends for how people want to spend and shop. The group is also the leading indicator of broader customer demands in retail experience and where the industry is headed.
"The lines between the physical and digital shopping worlds are dissolving," said Roelant Prins, chief commercial officer at Adyen. "Retailers need to cater to shoppers by offering fast, easy and frictionless ways to pay so there are minimal lines and offer personalized recommendations and in-store deals. In other words, experience is key."
Additional findings on Spendsetters from the survey include:
45 percent believe brand is important and are willing to pay a premium for the experience

49 percent love to shop

42 percent prefer to shop online

80 percent are comfortable using digital wallets

86 percent have left a store due to long lines
Spendsetters also have three overarching shopping demands:
Convenience
75 percent would shop more in-store with a "just walk out" payment experience

69 percent would shop more in-store with shorter lines and direct shipping of out-of-stock products
Context (personalized)
57 percent say the ability to check if an item is available online before going in-store would increase their loyalty to a retailer

53 percent prefer a store with a mobile loyalty program

72 percent would shop more with personalized product recommendations and coupons, based on location

61 percent want personalized experiences based on past purchases and preferences
Control (interaction on their terms)
59 percent want to use a store-branded app to pay onsite

80 percent are comfortable using digital wallets

53 percent would shop more online if they could use a chatbot with personalized recommendations

80 percent would increase shopping frequency online through marketplaces
The survey also examined issues from the retailers' perspective:
46 percent of retailers are considering cashless stores

67 percent see an increase in customers using their mobile phones in-store for coupons, payments and product info

64 percent see a need for associates to use mobile devices to better assist customers
Additionally, when it comes to luxury retailers, 85 percent see an increase in customers using their mobile phone for shopping in stores in regards to coupons, payments and product information, and 74 percent are considering cashless stores that only accept cards and digital payment.
For more information on The Cost of Convenience, click here.
Adyen delivers frictionless payments across online, mobile and in-store channels. In 2015, $50 billion in transaction volume was processed on the Adyen payments platform.