In Memoriam: W. A. "Bill" Krause, 1935-2013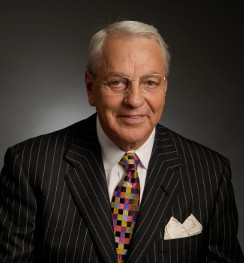 WEST DES MOINES, Iowa -- Working hard, taking calculated risks and focusing on the future were three attributes that contributed greatly to W.A. "Bill" Krause's success. But perhaps, it was his focus on serving his family, his company's associates and his customers that really set him apart among today's business executives.
"Our No. 1 question to a customer is always: 'Did we earn a referral today?' We feel we've done our job right only if that customer is so satisfied, he or she will refer others to do business with us," Krause, co-founder of Kum & Go LC, said during an interview with Convenience Store News in 2006 on the occasion of his induction into the CSNews Hall of Fame.
Click here to read the full profile we wrote on the late c-store pioneer, as he reflected on his time in the convenience industry and shared the secrets of how Kum & Go successfully grew from one store into one of the largest family-owned enterprises in America.
Krause passed away Wednesday morning at the age of 78. Our deepest sympathies go out to his family, friends and Kum & Go colleagues.