Miami Dolphin Brian Hartline Keeps His C-store Day Job
MIAMI -- After signing a five-year, $31 million contract to play NFL football, it's safe to assume an athlete no longer needs to hold a day job. But Brian Hartline, wide receiver for the Miami Dolphins, has other ideas in mind.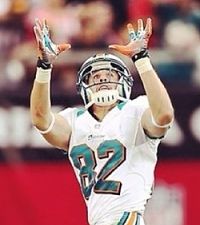 The 26-year-old Hartline and his friends operate Smart Stop convenience store, which the football player said hopes to become the next Circle K.
"Me and my buddies have always wanted to (own a convenience store)," Hartline stated on radio station 790 The Ticket in Miami. "(My friend) ran a lot of them in Ohio with his family since he was 15, and we wanted to go into business. We bought our first store in January."
Radio host Den LeBatard subsequently joked with Hartline by asking what type of dream it was to own and operate a convenience store. "The dream," Hartline answered. "The American dream. Owning your own business."
While he pursues his off-field dreams, Hartline will team up with free agent signee Mike Wallace on the Dolphins to form what many think could be one of the NFL's best wide receiver duos.
According to Larry Brown Sports, Hartline is not the first NFL player working a "common" job during the offseason. In the past, many NFL players have spent much or all of their money before retiring, leaving them in difficult financial situations later in life.
Circle K is a division of Alimentation Couche-Tard Inc.