09/21/2017
More Than Half of U.S. Grocery Sales Are Digitally Influenced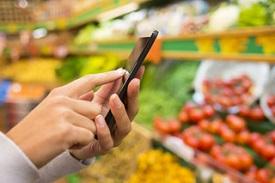 NEW YORK — Year over year, the influence that digital has on the U.S. grocery industry has almost doubled, according to new research from Deloitte. 
Deloitte's study found that digital has specifically influenced shoppers' in-store experience, as they often browse online before heading to a physical store location.
"People are making decisions about what goes in the grocery cart long before they get to the shelf or even the store," said Barb Renner, vice chairman, Deloitte LLP, and U.S. consumer products leader. "The majority of food and beverage purchases still happen in the store, but consumers' online or mobile experiences impact those purchases much earlier in the shopping journey."
Digital influence has swept over the retail industry at large, with grocery playing catch-up, which isn't lost on consumers who are looking for grocers to step up their game.
"In our research, people saw room for improvement from grocers compared to digital experiences they find in other retail categories," said Renner. "Consumer products companies and retailers who create those digital touchpoints have a much better shot at getting the shopper's attention and loyalty before competitors."
The numbers indicate that the influence digital wields in-store across retail has grown 300 percent since 2013 — from 14 percent of all transactions to now 56 percent. As for mobile's specific in-store influence, it's grown from 5 percent to 37 percent in the same timeframe.
As consumer habits continue to evolve in the direction of digital, so too will their expectation that their grocer can accommodate them. According to Deloitte's study, 77 percent of consumers find inspiration for shopping using digital touchpoints like recipe websites, while 88 percent have used digital devices to browse products. Also of note is that shoppers prefer using grocer retailers' mobile apps over consumer product companies' apps — 41 percent to 27 percent.
"Digital is expected to play an even bigger role in delivering the experiences shoppers' desire," said Rich Nanda, principal, Deloitte Consulting LLP, and U.S. consumer products corporate strategy and growth leader. "However, many consumer products companies and their retail partners have yet to take full advantage of the opportunity, potentially leaving money on the table."
To read the full story, visit Convenience Store News' sister publication Retail Leader.