Motiva Grows With Largest 76 Station in Texas
Get great content like this right in your inbox.
Subscribe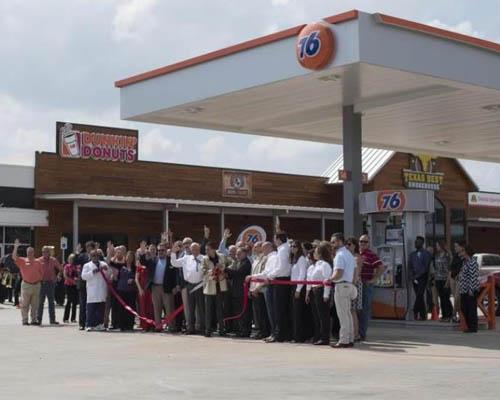 NASH, Texas — Motiva and Victron Energy have teamed up to open the largest 76-branded gas station in Texas.
The 76 Travel Center, located in Nash, has a 20,000-square-foot convenience store, 14 fuel pumps, a large truck fueling area and four quick-service restaurants onsite, including Dunkin Donuts, Golden Chick, Steak N' Shake and Texas Best Smokehouse Barbeque.
The Victron Energy-owned station officially became the 12th 76-branded location in Texas to be supplied by Motiva. It welcomed its first customers on Sept. 22.
By mid-2018, Motiva will supply 76-branded fuel through six major fuel wholesalers. Along with Victron, Motiva has contracted with Classic Star (Dallas), Rockport (Houston), Gulshan (Houston), King Fuels (Houston) and Mountain Express (Rio Grande area) to offer the fuel across the state.
In addition to Texas, Motiva is expanding the 76-brand across its entire territory of 26 Gulf and East Coast states. Motiva currently supplies 76 stations in New York, Georgia, Texas, Tennessee and New Jersey.
"There is a lot of energy and excitement for the 76 brand at Motiva. It has been a lot of fun to watch consumers reconnect to this iconic brand, and we see growing brand loyalty from New York to Texas with the opening of each new or rebranded station," said Bill Spurgeon, Motiva's vice president of fuels sales and marketing.
"We couldn't ask for a better wholesale partner than Victron at this newest location. The facility and customer service is fantastic and will be very well received by interstate travelers and local consumers alike," he added.
Victron Energy hosted the Nash grand opening on Sept 22-23, which included fuel for 76 cents per gallon fuel on Sept. 22. In addition to turning back time for loyal 76 customers with the discounted fuel offer, consumers have the chance to win prizes including gas cards and 76-branded items during the two-day celebration.
"We chose to offer 76 brand fuel at our newest station for several reasons. Most importantly, we have a great partnership history with Motiva, and they have proven their ability to market the brand well," said Walid Alameddine, president and chief operating officer of Victron Energy. "The 76 brand is well known in the west and northeast, and we are excited about the opportunity to help grow the brand in our market."
Motiva officially launched its marketing program to support its new 76-branded wholesalers in January. Working closely with wholesalers, Motiva's localized marketing efforts will continue to increase as 76 stations open in several additional markets across the gulf coast and east coast in upcoming months.
76 is a registered trademark owned by Phillips 66 and licensed for exclusive use by Motiva Enterprises in 26 Gulf and East Coast states. Phillips 66 recently unveiled its Signature Image Program for all three of its brands: Crest for 76, Fusion for Conoco, and Rivet for Phillips 66, as CSNews Online previously reported.
Houston-based Motiva refines, distributes and markets petroleum products throughout the United States. It owns and operates North America's largest refinery in Port Arthur, Texas with a crude capacity of more than 600,000 barrels a day. The company also operates the country's largest lubricant plant for both consumer and commercial use.
Under exclusive, long-term brand licenses with Shell and Phillips 66 (for the 76 brand), Motiva's marketing operations support more than 5,200 retail gasoline stations. Motiva is wholly owned by affiliates of Saudi Aramco.