Navigating the Intersection of Foodservice & Technology
Get great content like this right in your inbox.
Subscribe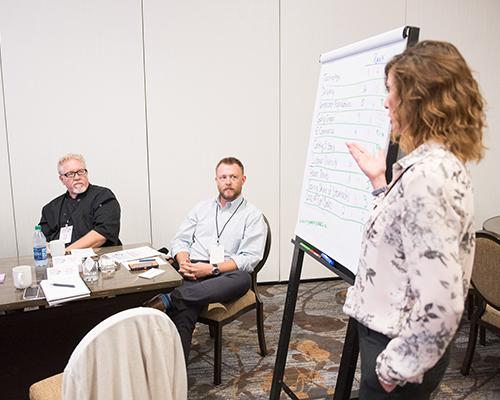 DALLAS — Discussions of disruptive and evolving technology, food safety and cultural shifts were on the menu at the inaugural Convenience Store News Convenience Innovation Council, powered by ConvenienceWorks by Hussmann.
Held Sept. 11-12 at the Sheraton Dallas Hotel by the Galleria, this new event brought together a group of leading convenience store retailers to discuss changing consumer behavior, share current best operational practices, and plan future benchmarks for convenience foodservice excellence.
To build an optimal future for the industry, c-store retailers must understand the most pressing issues of the present.
In an opening presentation and follow-up discussion on disruptive trends, Convenience Store News Editorial Director Don Longo discussed the key drivers of cultural change in 2018. This includes: the growth of multi-generational and non-family households; geographically uneven economic recovery from the recession; increased consumer focus on design and experience; mobile centricity; alternative ownership models; and the desire for connection, placing e-commerce at odds with cases where consumers want to engage with other people.
These key drivers, particularly those related to technology, are changing what it means for brands to be successful and for consumers to be satisfied. Products and industries that may seem immune to significant changes are only protected until someone devises a new way to do something.
"The future belongs to the curious," remarked one attendee.
The retailers agreed that while the rapid evolution of retail technology can offer many advantages and operational capabilities that never existed before, newer technology isn't always better. Touchscreen ordering kiosks have been added to many c-stores and other foodservice operators in recent years, but the associated expense may make them obsolete as mobile ordering through smart devices takes their place.
Still, retailers need to try new things, moving out of their comfort zones, or risk being left behind.
"You can't wait until you think you're ready for it," another attendee noted.
FOOD SAFETY & THE ROLE OF TECHNOLOGY
The Convenience Innovation Council took a closer look at one particularly important aspect of foodservice: food safety, particularly the ways that a safety failure can negatively affect customers, brand reputation and legal liability.
Merridith VonHartitzsch, market research manager for Hussmann, led the food safety discussion. She pointed out that along with the basics of emphasizing handwashing, following local regulations and working with health inspectors, a solid food safety program should include the specifics of a c-store's food safety policies (what to do); procedures (how to do it); records (who did what); a store map (where are things located); and a plan for what happens if things go wrong.
Retailers should keep it FRESH, said VonHartitzsch:
Food Temperatures — Keep them safe
Regulations — Stay compliant
Education — For all employees
Sanitation and safety programs
Handle food-related incidents with care
Even an isolated incident can go viral quickly, but store operators can mitigate the risk by knowing their vendors well, inspecting deliveries and focusing on traceability — something customers care about as well.
The retailers in attendance pointed to issues of training and turnover, as well as the cost and complexity of foodservice, as being among their biggest paint points related to food safety.
Technology & the Retail Industry
The Convenience Innovation Council also included presentations and roundtable discussions on how technology has changed the retail industry and will continue to do so.
In 2013, mobile technology made up 22 percent of media consumption. Five years later, it's jumped to 36 percent, while mobile-based services such as Uber and Venmo have become an accepted part of consumers' lives.
Retailers may not have control over the actual development of technology, but they can study the disruptors and consider how advancements can apply to their industry, according to Doug Middlebrook, assistant vice president, shopper marketing, convenience retail, for Coca-Cola North America Group. 
Middlebrook pointed to Chik-Fil-A as a brand that "out-convenienced us" with its mobile app, which is easy to use and made food a reward for trying it out.
As disruption through technology continues, brands will need to evolve what they sell, how they sell it and how they deliver. Companies that are doing well with various types of innovative technology include CVS and Albertsons (curbside pickup); GrubHub and UberEats (insta-dining); and Starbucks and Square (insta-ordering/payment), according to Middlebrook. 
The rise of innovative retail technology has prompted a change in the definition of "convenience," as companies develop new ways of providing goods and services to create convenience and affordability. Additionally, more retailers are looking to the curation of experiences to satisfy consumers' expectations of personalization, and are exploring connectivity, striving to integrate physical and digital experiences using technology and data.
Regardless of the brand, companies should make sure that innovation supports their business strategies, Middlebrook concluded.
Retailer attendees at the Convenience Innovation Council included Ross Adkinson, senior director, food, Circle K Stores Inc.; Kelly Buckley, vice president of fresh food innovation, 7-Eleven Inc.; Ed Burcher, vice president of foodservice, Beck Suppliers (dba Friendship) and principle, Burcher Consulting; Billy Colemire, foodservice category manager, Dash In; Derek Gaskins, senior vice president of merchandising and procurement, Yesway; Kyle Lore, corporate executive chef, Maverik Inc.; Lisa Luben, director of foodservice, Country Fair, United Refining Corp. of Pennsylvania; Marty Putz, director of food safety and quality assurance, Kwik Trip Inc.; Steve Turner, foodservice director, RaceTrac Petroleum; and Nancy Wilson, director of quality assurance, risk management and safety, Wawa Inc.