New BK Breakfast Menu Debuts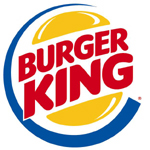 MIAMI -- Burger King Corp. unveiled new breakfast menu items this week in what the quick-service restaurant (QSR) chain is calling its "largest menu expansion ever," Nation's Restaurant News reported.

The widely anticipated new BK Breakfast Menu includes blueberry mini-muffins, pancake platters, a ciabatta breakfast sandwich and three flavors of iced coffee, according to the report.

"We're ready to compete to be America's wake-up call with our new BK Breakfast Menu," said Mike Kappitt, chief marketing officer for North America at Miami-based Burger King, which last week announced its proposed sale to private equity firm 3G Capital of New York.

BK's new breakfast items, which are available until 10:30 a.m. daily, expand upon its long-standing morning fare such as the breakfast Croissan'wich, as well as its newer entries such as the breakfast muffin sandwich and the BK Breakfast Bowl. The new menu includes:

• The BK Breakfast Ciabatta Club Sandwich with eggs, tomatoes, ham, bacon, American cheese and a smoky tomato sauce on a toasted bun for a suggested retail price of $2.89;
• The four-piece Mini Blueberry Biscuits served warm with a side of vanilla icing for dipping for $1, which will be added to the BK Breakfast Value Menu.
• The BK Ultimate Breakfast Platter with scrambled eggs, sausage, hash browns, biscuit and pancakes for $4.29. A pancake and sausage platter is $2.89, and a pancake platter alone is $2.29.
• In addition to hot Seattle's Best Coffee available in $1, $1.19 and $1.39 sizes, Burger King is expanding to iced coffees in mocha, vanilla and regular flavors for $1.89.

Burger King will debut a 60-second television commercial Sept. 13, in which an early riser hits the streets alongside hungry neighbors -- a construction worker, jogger, landscaper and even a flutist -- chanting, "Burger King for breakfast? There's really such a thing." Later, 30-second spots will target individual menu items, the Nation's Restaurant News report stated. Digital banner ads, a mobile phone application and other new media advertising also are being utilized.