New Irving Oil Stations Open in Vermont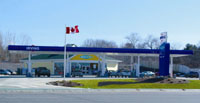 POULTNEY, Vt. -- Frank Trombetta of Midway Oil has opened Poultney and Fair Haven's first lrving Oil gas stations, expanding the regional brand to the community, the company reported.

"Midway Oil is a locally owned, family operated Vermont business that has served the community since 1925," Trombetta said in a released statement. "Irving Oil's reputation of being a family-owned company with a deep community commitment fell in line with our values and motivated us to join the brand. Their growth in Vermont has been particularly impressive. We are excited to expand the Irving brand here and are looking forward to continuing to serve the members of our community."

Midway Oil is owned by the Trombetta and Merone families. The company supplies fuel for 53 gas stations and owns 20 locations in Vermont and upstate New York.

The Poultney and Fair Haven stores are two of several new Irving sites to recently open in the state. The Poultney Snack Shop is located adjacent to Green Mountain College and offers complete convenience store service with a variety of products at competitive prices including, Irving clean gasoline, Green Mountain Coffee, beer, wine and tobacco products. The Fair Haven Smart Shop offers similar competitive prices and features a Dunkin' Donuts satellite in the store. Both stores participate in Irving's gas savings program with Shaw's Supermarkets.

"We're very pleased to expand the Irving name in Vermont," Harry Hadiaris, general manager of Irving Oil Marketing said in a released statement. "Irving is always looking to partner with businesses that share our values for excellent customer service and a great fueling experience; we know that's exactly what Midway Oil will provide."

A grand opening celebration to welcome new and returning customers to the locations is expected in the coming weeks.