New Lease Accounting Rules Are Coming

Dramatic change is coming in 2013. The rules for how leases are classified are changing as a result of International Accounting Standards Rule IAS 17. In the United States alone, experts estimate that $1.3 trillion will be reclassified on corporate balance sheets as a result of this new rule.
In the past, almost all corporate leases were operating leases. Operating leases are short to medium term and simply show a "rental expense" on the income statement. On the other hand, capital leases are long term and treat the leased property as if it were owned.
Because accounting abuses played a central role in the collapse of Enron and Worldcom a decade ago, IAS 17 is being implemented to make corporate financial statements more transparent. The operating lease is going away. The impact of this new accounting rule on convenience retail companies' income statements and balance sheets will be significant, perhaps even determining whether a company should own or lease its stores.
According to industry figures, since 2006, a larger number of convenience retailers have begun a strategy of leasing new stores rather than owning. This trend peaked in 2008 with 72 percent of all new stores being leased, often through sale-leasebacks. (See Figure 4-1) These sale-leasebacks were often carefully structured so the occupant-operator, or lessee, avoided a capital lease classification.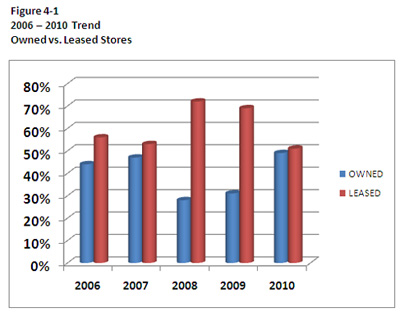 Impact on Financial Statements
IAS 17 will force companies to reclassify almost all leases as capital leases. For stores that are already leased, no grandfathering is allowed. This reclassification will produce changes on both the balance sheet and income statement.
Changes on the balance sheet will include:
• Higher liabilities. A higher net liability on the lessee's balance sheet will result for leased stores because the asset amortizes faster than the liability.
• Lower financial ratios. "Grossing up" the balance sheet will lower the lessee's financial ratios, such as return on capital and asset turnover. These financial ratios are used by industry analysts and lenders.
Changes on the income statement will include:
• Now, two expenses (rent amortization and interest) will be recorded in the lessee's income statement instead of one (rent expense).
• EBIDTA will increase because "rent expense" was above the line and "rent amortization" and "interest" are below the line. Therefore, every company's EBIDTA will increase. In other words, occupancy costs are being moved below the EBIDTA line.
• Lower pretax profit. Higher occupancy expenses will occur in the early years. Together, "rent amortization" and "interest" will exceed "rent" expense in the early years because the new rule will frontload these costs.
Under the new rule, leasing will be a net liability for the lessee in most years. In the early years, occupancy costs for leased properties will now be 5 to 15 percent higher on the income statement than before. Because of this, the popular sale-leaseback will not be as attractive.
For the convenience industry, the average new store lease cost is $17,000 per month. At the low end of this range, an increase in accounting expense of 5 percent is a $10,200 reduction in annual net income. At the high end of the range, an increased accounting expense of 15 percent reduces net income by $30,600 per year. This is a decline of 72 percent of the average pretax profit per store in 2010.
The changes from IAS 17 will shape the way we think about convenience retail real estate. In an upcoming column, we will further explore this topic with John Flippen, managing director of Petroleum Capital and Real Estate, an industry leader in convenience industry finance.
Robert E. Bainbridge is an author, instructor and expert witness in the appraisal and valuation of convenience stores and gas stations. He can be reached at [email protected] or (541) 823-0029. Find more valuation information at www.cstorevalue.com.
Editor's Note: The opinions expressed in this column are the author's, and do not necessarily reflect the views of Convenience Store News.