New Pepsi Fountain Takes On Coca-Cola Freestyle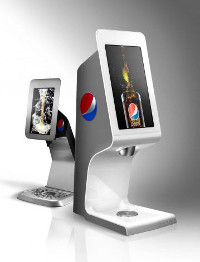 PURCHASE, N.Y. -- PepsiCo Inc. is responding to The Coca-Cola Co.'s Freestyle fountain with a touchscreen fountain machine of its own.
The beverage giant plans to start testing a new fountain machine at restaurants called the "Touch Tower," which lets people create a variety of flavor combinations such as strawberry Mountain Dew, according to The Associated Press.
Gina Anderson, a spokeswoman for Purchase, N.Y.-based PepsiCo, said the Touch Tower lets people add up to four flavor shots -- lemon, cherry, strawberry or vanilla -- to eight varieties of beverages. PepsiCo's test is set to begin at five restaurants in Denver next week.
Anderson noted that the company has other tests planned and that the Touch Tower's introduction in Denver is just the first in a series of new fountain equipment the company is considering.
This PepsiCo test follows Coca-Cola's 2009 introduction of its Freestyle fountain machine, which also lets customers touch a screen to select from a wide array of flavor combinations. The Coca-Cola Freestyle also lets people choose from a wide variety of unique drinks, such as Caffeine-Free Diet Coke with Lime or Minute Maid Light Orange Lemonade.
Unlike the PepsiCo machine, though, Freestyle's options are preset and don't let customers mix and match flavors, the AP explained. The PepsiCo Touch Tower is also much smaller than the Coca-Cola Freestyle, which is roughly the size of a vending machine.
PepsiCo said its machine, which has a tablet-like screen, is intended for outlets that want equipment that doesn't take up a lot of space. The company is also developing other machines that would suit a variety of needs.