New Snapple Beverages Available Exclusively at 7-Eleven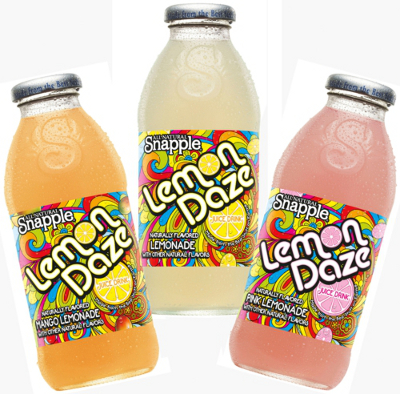 DALLAS -- In a continuation of its #AWESUMMER promotion, 7-Eleven Inc. teamed up with Dr Pepper Snapple Group to bring Snapple Lemon Daze lemonades to participating 7-Eleven stores all summer long.
Available for a limited time, Snapple Lemon Daze comes in three all-natural flavors -- Lemonade, Pink Lemonade and Mango Lemonade -- in bottles with eye-catching new labels, the c-store retailer noted. Each bottle has a suggested retail price of $1.49, but starting today through Sept. 5, customers can buy two bottles for $2.22.
"Lemonade drinks are one of the fastest-growing beverage segments," said Alan Beach, merchandising vice president for 7-Eleven. "They appeal to consumers at both ends of the generational spectrum -- from teens and Millennials to seniors. It's hard to name something that goes better with summer than an ice-cold lemonade, and you can't beat three delicious premium lemonades 'Made from the Best Stuff on Earth' and priced to quench the biggest summertime thirst."
7-Eleven's #AWESUMMER campaign is providing more than 30 coupons for free merchandise and value offers on its most popular products. Customers can download the free 7-Eleven mobile application (app) to their smartphones for the offers and to find directions to their nearest 7-Eleven store.
As CSNews Online previously reported, this is the second summer partnership between 7-Eleven Inc. and Snapple. To celebrate National Iced Tea Day on June 10, 7-Eleven gave out free bottles of Snapple iced tea and continued the promotion that entire week through the 7-Eleven app.
7-Eleven Inc. operates, franchises or licenses more than 10,110 7-Eleven stores in North America.