Newcastle Introduces Next Wave of 'No Bollocks' Campaign
WHITE PLAINS, N.Y. -- Newcastle Brown Ale is kicking the year off with the next wave of its "No Bollocks" marketing campaign.
The beer brand's new first-quarter retail program combines refreshing honesty and Newcastle's brand of humor with special offers aimed at driving secondary displays and higher basket rings for retailers.
"Newcastle s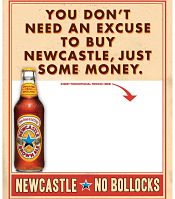 hoppers respond to straight talk and support brands that cut through the marketing 'Bollocks,'" said Brett Steen, brand manager for Newcastle. "Whether on the shelf, on display or in the cold box, Newcastle's 'No Bollocks' retail program elements will keep Newcastle Brown Ale top-of-mind through simple, candid messages that resonate with shoppers and offer exactly what they want from their favorite brands -- a refreshing dose of honesty." 
This next phase of the campaign, which run through March, is designed to drive consideration of Newcastle among adult consumers over the age of 21, as well as boost in-home consumption and entertaining. At retail, Newcastle displays and point-of-sale materials featuring the "No Bollocks" campaign are available to dress up accounts and engage consumers.
Cross-merchandising offers, including instant redeemable coupons and mail-in rebates, are also available where legal on the purchase of select channel-relevant items and Newcastle Brown Ale to drive incremental sales.
As CSNews Online previously reported, the "No Bollocks" campaign was introduced this past April and marked the first time Newcastle invested in national television ads. The campaign is centered around a no-nonsense approach that gives it to consumers straight. Newcastle Brown Ale is imported by White Plains, N.Y.-based Heineken USA.