Nice N Easy Grocery Shoppes Vet Matt Paduano Opens His Own C-store
Get great content like this right in your inbox.
Subscribe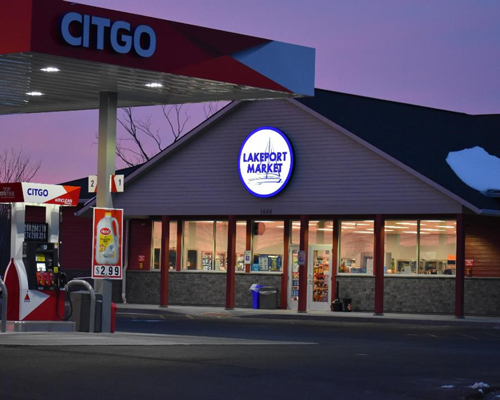 LAKEPORT, N.Y. — Among the myriad of things Matt Paduano knows are upstate New York and convenience retailing. Combining the two, the industry veteran recently opened Lakeport Market on State Route 31 in Lakeport, N.Y., and he enlisted his family to join him.
Located halfway between Syracuse and Utica, Lakeport Market is nestled across from the south shore of the 22-mile Oneida Lake. As one may imagine, this is a rural community and was previously considered a food desert before the Paduano family arrived.
"I tell people there is a 22-mile wall across the street from us. If you want to go from one side to the other, you have to go down this road," Paduano said. "There are camps, year-round homes and good traffic flow. I saw a lot of opportunity here to be a destination for fuel, food, groceries, beverages, beer and snacks."
The idea for Lakeport Market actually began with former Nice N Easy Grocery Shoppes founder John MacDougall. He secured approval to build a Nice N Easy store on the lot; however, the plans met opposition from one local resident. Ensuing litigation dragged on for several years before the decision was ultimately made to back off the plan.
Canastota, N.Y.-based Nice N Easy was subsequently acquired by CST Brands Inc., which had no interest in building a convenience store on the property, effectively putting an end to the idea.
That is, until Paduano stepped up to the plate roughly six years later.
Going Out on His Own
Paduano has a long history with the convenience store industry. He worked for two c-store companies over the course of his 29-year career, gaining the bulk of his experience at Nice N Easy. However, unfortunate circumstances and two acquisitions led him to go out on his own.
"We had a good thing going with Nice N Easy for 35 years and with [MacDougall's] passing, the company was sold to CST Brands," Paduano explained.
The San Antonio-based retailer started out aggressive and wanted to grow its presence in the New York market. With his familiarity of the area, Paduano became the company's real estate contact in the market and worked with CST to line up a number of properties for new convenience stores. Everything came to a standstill, though, after shareholder unrest led to a strategic review of the company in early 2016 — followed by CST's eventual sale to Laval, Quebec-based Alimentation Couche-Tard Inc. one year later.
With all the changes, Paduano felt the time was right to explore other opportunities. He parted ways with Nice N Easy right before Labor Day weekend in 2017 and received approval from town officials for Lakeport Market the day after Labor Day.
With a slight shift in plans — MacDougall's vision called for a 6,500-square-foot store with an adjacent bank — Paduano was on his way to becoming a single-store operator.
Open for Business
Lakeport Market opened in March. It boasts a foodservice menu that goes beyond the typical convenience store fare. The foodservice program includes fresh pizza, fresh subs, wraps, fried fish, chicken wings, quesadillas, melts, salads, fruit cups and cookies.
"We took a lot of cues from what made Nice N Easy successful. If it works, why not?" Paduano explained, noting that everything is made in-house and there are no commissary items.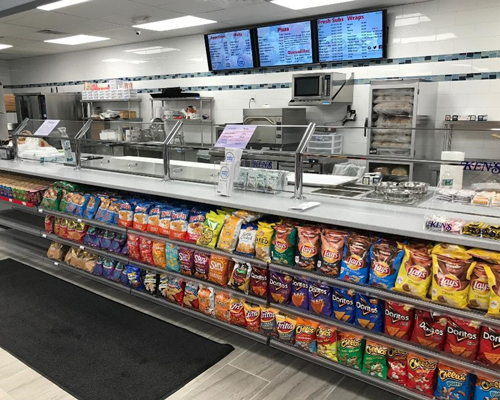 "The Nice N Easy food program was a good starting point for us, but our plans are to expand our offerings. We recently purchased a meat slicer that will allow us to offer better-quality cold cuts that will be sliced fresh every day," he added.
Lakeport Market is just that — a market. The location has eight feet of pet food, 12 feet of paper and cleaning products, and 20 feet of edible items. The store also features a walk-in freezer with four doors of frozen food and a four-door, walk-in dairy cooler.
"I don't call it a convenience store. I call it a market," Paduano said. "It's what we tried to do at Nice N Easy. I know people aren't going to come here to do all their shopping, but we have a few locals in here every day buying things so I am their grocery store." 
Part of the business strategy includes using as many local vendors and locally made products as possible. Among the locally connected products found in Lakeport Market are milk, ice cream, cheeses, meat products, maple syrup, produce and snacks. The store's beer cave also has a separate section that merchandises only New York State craft beer brands.
Today, as part owners of the store, all three of Paduano's children do the hiring, training, scheduling, ordering and merchandising. Nicole Paduano Roth, 28, brings retail experience, Alyssa Paduano, 27, brings foodservice experience, and Anthony Paduano, 23, works as an assistant manager between college.
As for Paduano, he pitches in everywhere, from bagging ice and cleaning windows, to stocking and maintenance. Just don't ask him to make food. 
"If you ask my kids, much of my day is spent standing around talking to the customers," he joked.
Click below to download our full report, "Convenience With a View."