04/18/2012
Nice N Easy's Mini-Grocery Pulls In Big Sales
BREWERTON, N.Y. -- It's only been six months since Nice N Easy Grocery Shoppes opened its first mini-grocery store in Brewerton, and already the community has taken to the store as if they've been doing their grocery shopping there for years.
The mini-grocery, which opened its doors on Oct. 25 -- replacing an existing Nice N Easy convenience store on the site off Interstate 81 -- was built at the request of town officials who approached the chain to see if they could help fill the need in the community for a grocery store. Both the closest supermarket and Walmart are four miles away.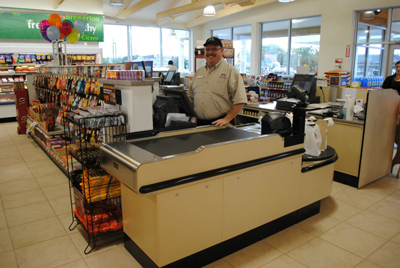 The 6,750-square-foot store is Nice N Easy's largest location, and it will serve as a prototype for future builds in select communities that have the need for such a store, like Brewerton did.
On a recent visit to upstate New York -- home to Nice N Easy's 80 corporate and franchise stores -- Matt Paduano, vice president of category management, gave CSNews Online a tour of the prototype store, which continues to undergo tweaks based on customer feedback.
The first sign that you're not at a typical Nice N Easy c-store is the shopping carts standing ready at the entrance. Paduano said the company will actually be going back and installing an automatic sliding front door to make it easier for customers to push their carts in and out -- something that didn't occur to the retailer until after the store opened for business.
Upon entering the mini-grocery, customers are immediately greeted by fresh produce -- just like at a typical supermarket. Recently, the company brought on another produce manager to oversee this section at the Brewerton store and expand his expertise to other locations. Nice N Easy also hired a grocery manager who's dedicated solely to the prototype store for the time being.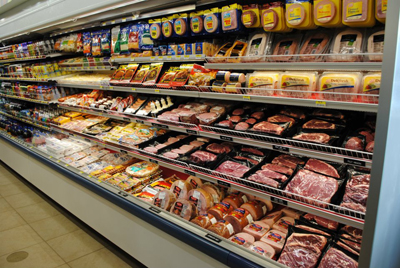 The Brewerton store stocks 1,000 additional grocery, frozen, dairy and cooler SKUs, compared to Nice N Easy's traditional c-stores, and also sells fresh beef and pork products. Aisle markers help customers find what they need, whether it's a box of pasta or a bottle of detergent.
Roughly 90 percent of the grocery items are supplied by Olean Wholesale Grocery Cooperative Inc., a local, independent grocery wholesaler based in Olean, N.Y.; the other 10 percent comes from McLane Co. Olean makes one weekly delivery to the store, while McLane makes two.
"By going with an independent grocery wholesaler, we can buy by cases and pallets," Paduano explained, adding that Nice N Easy also chose Olean because it carries the Shurfine private label brand. Shurfine is a well-recognized brand carried by a lot of independent grocers.
Offering private label grocery products is a must at the mini-grocery, according to Paduano. "Everybody in this area -- whether you're Walmart or Wegmans, has private label," he told CSNews Online during its exclusive tour. "This is a big area for private label."
Looking at sales data from the past six months, four out of the store's top 10 grocery items are Shurfine private label products: shredded mozzarella cheese, tuna, bath tissue (single) and shredded Mexican Blend cheese. The top grocery item is Campbell's Tomato Soup.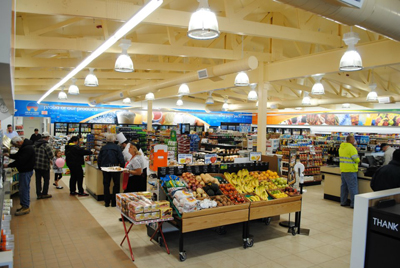 The product mix at the mini-grocery is constantly evolving, as customers request different items. For instance, the store opened with five doors devoted to frozen foods and two dedicated to ice. Today, all seven doors are filled with frozen foods and ice has been moved outside.
"People were asking for more and more [frozen] product," Paduano said.
Like traditional grocery stores, Nice N Easy is using certain product categories, such as coffee and cereal, as "low-price leaders" to draw shoppers into the store. The company also has taken a page from supermarkets in doing as much "multiple pricing" as possible. On the day that CSNews Online visited the store, Libby vegetables were on sale at 10 for $10.
By meeting the community's needs, Nice N Easy is being rewarded with increased sales. The mini-grocery is bringing in more than double the sales that the prior c-store was.
Based on these results, the retailer will soon add more groceries to roughly half of its c-stores that are large enough to handle the modified offering and have the community demand. The chain has also targeted about a dozen of its franchise locations that can benefit from this program, and Paduano said they're working with those owners to develop plans.
The modified grocery offering will not be something seen in every Nice N Easy store. "Some stores are just too small and others are just not the right place to do it," he noted.
Brewerton customers, though, seem to like what they're seeing at their mini-grocery.
"We haven't heard anything negative," Paduano said.