NOCO Express Opens Largest Store Yet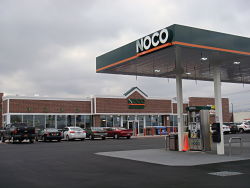 LANCASTER, N.Y. – NOCO Express, the family-owned, 35-unit convenience store chain operated by NOCO Energy Corp., celebrated the grand opening of its newest and largest store. Located in Lancaster, N.Y., the store is 6,000 square feet and includes the retailer's first travel center and commercial diesel fueling stations.
"We've come a long way in evolving our current convenience store model from the first store we opened in 1984," said Michael F. Newman, executive vice president of Tonawanda, N.Y.-based NOCO Express. "As NOCO celebrates its 80th anniversary, we are proud to open the largest NOCO Express in our portfolio. It's also the first store that offers a variety of features to meet the needs of both our on-the-go customers and commercial truck drivers."
The Lancaster location features a variety of meal options for breakfast, lunch and dinner. Tim Hortons, open 24 hours daily, offers customers a selection of coffees, specialty beverages, sandwiches and baked goods. For added convenience, a drive-thru is available. Subway, also located within the new store, is open from 9 a.m. to 10 p.m.
In addition, the new store offers a line of specialty beverages, including fountain drinks featuring flavor shots, f'real milkshakes, Slush Puppie ice drinks and other frozen beverages. Customers can enjoy their food and beverages in a café-like seating area that offers free Wi-Fi and national news programming.
Calling itself "a boutique travel center," the newest NOCO Express offers three commercial diesel fueling stations, as well as a variety of items for truck drivers, including a bulk diesel exhaust fluid fueling system.
The store was constructed with several environmentally friendly building technologies to reduce energy consumption. These include low-watt LED lighting, a refrigeration energy management system, and white roofing for increased light reflectivity. A light harvesting system was installed, utilizing 16 skylights that allow natural light into the store. There is also an energy management control system that automatically dims the store lighting fixtures during the peak daylight hours on an as-needed basis.
In addition, the store is equipped with the mechanical infrastructure to accommodate electric car charging stations in the future as more electric cars start hitting the streets.