NOCO Express Relaunches Loyalty Program
Get great content like this right in your inbox.
Subscribe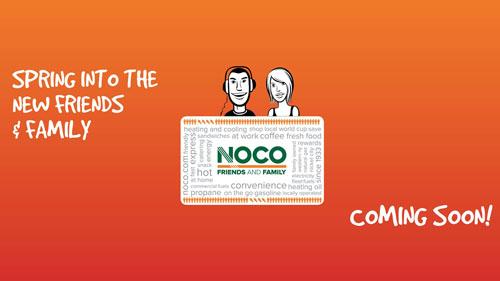 TONAWANDA, N.Y. — NOCO Express refreshed its Friends & Family program, nine years after introducing the loyalty initiative.
Friends & Family, which relaunches May 2, makes it easier for NOCO customers to earn additional savings and entries into monthly sweepstakes.
"Having launched our original loyalty program in 2009, we wanted to give it a fresh, easier-to-understand update based on customer feedback and new technology available," said Jim DeFilippis, vice president and general manager, NOCO Express. "By signing up in-store or via the new NOCO app, our customers can save every time they fill up at the pump or shop at one of our locations."
This month, the loyalty program will feature more than 25 prizes, including his-and-hers bicycles valued at $1,000 as the grand prize. Local restaurants and retailers are also providing gift cards as prizes, he said.
"As we celebrate 85 years in western New York, we are excited for the opportunity to partner with other local businesses on the promotions and prizes offered through the new Friends & Family program," DeFilippis added.  
According to the retailer, customers enrolled in the new NOCO Friends & Family program can earn instant savings and rewards, with free in-store items, discounts on monthly specials and birthday rewards.
Customers are encouraged to swipe their card both at the pump and in-store. Eight or more visits per month to NOCO Express earn customers two entries per swipe and 12 or more visits earn three entries per swipe.
Customers may also be eligible to receive special promotions throughout the month when visiting their local NOCO Express. The can track their visits and entries toward monthly sweepstakes through the new NOCO Express.
All customers registered in NOCO'S Friends & Family program save 3 cents per gallon of gas on every visit. These savings can be redeemed by swiping the card or entering your phone number at the pump. Customers can save an additional 3 cents when enrolled in NOCO'S EZPay Program, which syncs the Friends & Family card with a debit card.
According to NOCO, customers already enrolled in the EZPay program or who regularly use their NOCO Friends & Family card will be migrated to the new system. To receive the full benefits of the new Friends & Family program, customers must register the card by visiting noco.com/ff or by downloading the new app and linking the card.
Customers who have not used their NOCO Friends & Family card within the last year need to stop into any NOCO Express location to receive a new card or download the new mobile app.
Headquartered in Tonawanda, NOCO operates 39 convenience stores throughout western New York. It also offers a full line of products and services, including natural gas, electricity, propane, heating oil, commercial fuels, and HVAC sales and service.