NRA Show 2018 Reflects the Importance of Technology in Foodservice
Get great content like this right in your inbox.
Subscribe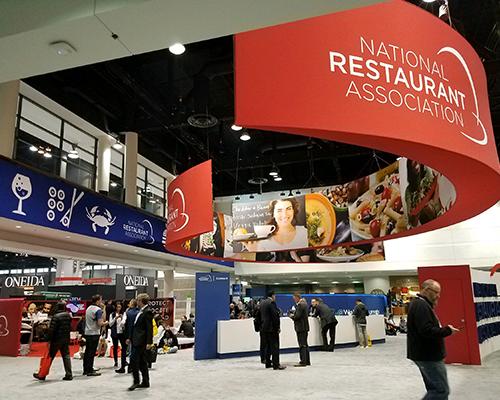 CHICAGO — Thousands of new products, services and equipment were on display at the 2018 National Restaurant Association Show, ready to meet the needs of every type of foodservice operator. But for the foodservice industry at large, and the convenience store market in particular, the most significant trend seen was innovative technology that can help retailers step up their offerings, or just do better with what they already have.
Here's a roundup of the technology highlights spotted by Convenience Store News at the show: 
AVERY DENNISON
As foodservice becomes more important to the c-store industry, many retailers ventured into the category through grab-and-go offerings just as the Food and Drug Administration's menu-labeling regulations came into effect. Avery Dennison created the FreshMarx 9417+ food labeling solution with these and other retailers that want a hassle-free grab-and-go program in mind.
The FreshMarx uses an expansive database of manufactured goods to build recipes that a retailer wants to offer, whether they are for snacks, desserts or takeaway entrées. Available in desktop and mobile versions, it then produces labels that include nutritional information, common allergens and explicit use-by dates — something the company identified as a particular risk in manually written labels, either due to error in writing the original label or in misreading potentially messy handwriting.
the COCA-COLA CO.
Coca-Cola debuted the next generation of its Freestyle dispenser series with the Coca-Cola Freestyle 9100, which features a new user interface capable of displaying full video on the front of the unit. Built-in microphones, speakers and optical sensors also enable future developments around creating interactive user experiences.
Following extensive consumer research, the company redesigned the Freestyle's touchscreen menu to provide the faster navigation consumers asked for. New groupings of "branded islands" make it easier for customers to select the type of beverage and individual flavoring they want. Customers can select from nearly 200 beverages in nine categories. This includes 100-plus low- or no-calorie options, and more than 90 caffeine-free beverages.
The new Freestyle unit also has the ability to offer special seasonal varieties, such as summer flavors, using the existing ingredients in the machine. This allows retailers to offer these extras without having to obtain extra inventory.
Technical updates to the Freestyle 9100 include Bluetooth connectivity, which lets customers who use the Freestyle mobile app connect to the dispenser and pour their favorite varieties or create new mixes without needing to scan a QR code. On the operator-facing side, an improved dashboard and enhanced diagnostics provide precise, real-time updates on how much product is remaining and how long it will last.
NCR CORP.
A representative of NCR named platforms and data as the key aspects of foodservice today, and the company kept both of them in mind when developing the platform it showed off at its booth in the show's exhibit hall. Large touchscreens for self-ordering were on display, as well as smaller units suitable for the forecourt to bridge the gap between food and fuel.
Customers at c-stores that install the technology can actually order freshly prepared food and pay for it at the pump, along with their gas. Once inside, customizable digital signage lets them see where their food is in the preparation process.
NCR also focused on "linebusting" via on-site but mobile ordering and payment. If a sudden surge of customer traffic occurs inside the store or at the drive-thru, employees can move down the line and input customer orders on a tablet, cutting down bottleneck at the counter.
Also on the mobile front, NCR demoed its Pulse Mobile Management Solution, which takes complicated data normally found in an expansive spreadsheet and simplifies its presentation in an app. Store operators can zoom in to view the stats for an individual store or zoom out to see the whole network.
RATIONAL
Rational seeks to bring convenience to c-store operators, not just their customers, with the launch of the SelfCookingCenter XS. This small unit was designed to take up minimal counter space and offer a user interface designed for staff who lack extensive foodservice experience — something particularly useful for retailers that have a small pool of experienced worked to hire from, or for those that prefer to bring on entry-level employees and train them.
Along with the ability to roast, grill, fry, bake and more using one appliance, the SelfCookingCenter XS offers extreme precision in temperature control and humidity for the desired final qualities of the food. It also performs automatic cleaning instead of requiring employees to manually clean it.
A company representative noted that when paired with digital menuboards, Rational also allows retailers to temporarily add or remove menu items, which avoids frustrating customers who may want an item that the store has run out of.
VEEA
C-store operators that want to make the most of technology without fully upgrading their equipment can take advantage of the Veea platform. Rather than investing in refrigeration units with built-in connectivity and alerts, retailers can place sensors within any refrigeration unit and be notified via push notification if a breakdown results in a temperature spike.
VeeaHub, an Internet of Things-enabled device, lets retailers offer services such as Wi-Fi hotspots, and personalized experiences such as in-app gamification with rewards based on past purchases.
Additional Veea services include VeeaConnect staff management; SmartTargeting, which pushes deals, promotions and events intelligently; and VeeaPay, whose hardware is PCI compliant, EMV-enabled and supports Apple Pay, Google Pay and Samsung Pay.
WILBUR CURTIS CO.
In a move that connects old and new, Curtis featured its recently launched GemX IntelliFresh Coffee Brewing System with FreshTrac, building on its previous Gemini Intellifresh Series. Changes include the removal of sightglass on the brewing units to avoid losing heat that radiated out through the glass. Instead of operators visually assessing the amount of coffee within, FreshTrac sensors monitor the time and volume of coffee as it moves through the unit and prompts new brews via an LED system. High-volume locations can take advantage of the ability to move coffee to connected satellite units that can be placed separately from the main brewer.
While the company sees the GemX as a significant advance in a series with 40 years of solid performance, it also kept retailers' maintenance expenses in mind during the development process. All interior components in the GemX are the same as those used by the Gemini line, which provides access to a larger inventory pool in case a unit needs repairs.
The 2018 National Restaurant Association Show took place May 19-22 at Chicago's McCormick Place.