NVE Pharmaceuticals Promoting Products on 'Jersey Shore'
ANDOVER, N.J. -- NVE Pharmaceuticals, which manufactures, markets and distributes 6 Hour Power and Xtra Energy shots, as well as diet and energy supplements, recently expanded its advertising efforts through integrated product placement, celebrity endorsements and commercials during reality shows such as "Jersey Shore" and "Pawn Stars."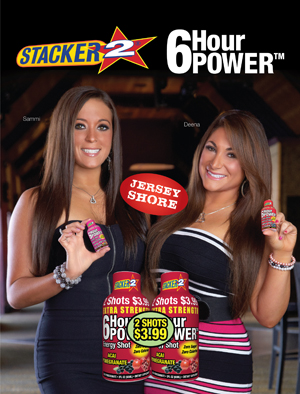 The company launched a multi-million dollar ad campaign for its Stacker2 line and 6 Hour Power during the Aug. 4 season premiere of "Jersey Shore." Sammi "Sweetheart" Giancola and Deena Cortese endorsed 6 Hour Power in a commercial shown during the show, which attracted an audience of 8.8 million viewers. Three three-second Stacker2 6 Hour Power commercials aired during the premiere, and more will follow throughout this season, the company said.
NVE launched a separate TV ad campaign to support its dollar-store brand, the Stacker2 Xtra Energy Shot, on Aug. 8 with commercials featuring "Pawn Stars" cast members Rick Harrison, Cory Harrison, The Old Man and Chumlee. The commercials are airing during episodes of the History Channel's "Pawn Stars," "American Pickers" and "American Restoration." "Stay tuned," said Karen Finocchio, vice president of marketing and advertising for NVE's in-house agency, Storm Media. "6 Hour Power and Xtra Energy Shots are hot, and the tides are turning."
6 Hour Power Energy Shots are available in regular and extra strength at two for $3.99; Xtra Energy Shots are available at dollar stores for $1 each.