The Pantry Re-launches Coffee, Starting in Raleigh Market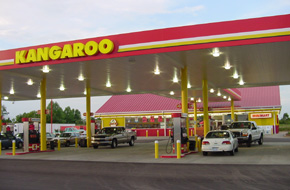 CARY, N.C. -- Working with GSP Marketing Technologies (GSP), The Pantry re-launched its coffee campaign, starting in its convenience stores in the Raleigh, N.C. market.

"Without GSP's dedicated team and focus, we could not have delivered on the quick turnaround that was demanded and provided," stated Robin Vaughn, category manager, marketing, for The Pantry. "Our coffee re-launch in the Raleigh market has started off in the best way possible and GSP's creative teams did a fantastic job."

The Pantry decided to re-launch the coffee and came to GSP to develop new creative design. The campaign has successfully reintroduced its "New Great Tasting Coffee" in Raleigh, and now, plans are underway to deliver the re-launch to the rest of its markets in the near future.

The project was "an opportunity to showcase our creative and branding capabilities and get the project completed in a very short amount of time," stated Steven Cohen, director of creative services at GSP.

With expertise from both creative and industrial designers, GSP provides retailers a single source for creation of new and re-image branding projects that help to improve and create a new in-store experience for consumers.

In other news, The Pantry, operator of Kangaroo Express stores, entered into a fuel supply agreement with Marathon Petroleum Co. LLC , the refining, marketing and transportation operations of Marathon Oil Corp.

Under the terms of the agreement, Marathon will supply fuel to more than 600 The Pantry locations, with a joint branding relationship at approximately 285 of these sites. The store and fuel forecourt re-branding will initially be introduced in Charlotte, N.C. Throughout the remainder of the year, all joint brand location conversions will be completed across a seven-state southeastern marketing region.

"We are very pleased to announce this agreement with Marathon, which marks an important step in our commitment to provide guests of Kangaroo Express stores with the finest brands available," said Terry Marks, president and CEO, The Pantry. "An equally important consideration for us is reliability of supply, and Marathon's reputation for outstanding customer service is well known throughout the industry."

Marathon's senior vice president of marketing, Tom Kelley, said the company is excited to partner with The Pantry as they launch their "Fresh Initiative" throughout their stores to enhance the experience of the customer. "The combination of The Pantry's extensive store network and Marathon's supply infrastructure that includes our premier Garyville refinery will be an ideal fit to provide their customers quality fuels," he said.

The Pantry's "Fresh Initiative" will be introduced to the re-branded Kangaroo Express convenience stores in Charlotte, bringing new coffee and fresh food to guests in a fast, friendly, and clean store environment. The Fresh Initiative includes renovations and remodeling of select stores with the Kangaroo Express banner across the southeastern United States.