Papa John's Ends $10 Any Large Pizza Deal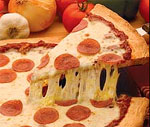 LOUISVILLE, Ky. -- Papa John's ended its $10 any topping, any pizza deal, at least for now.

"We have been off it for a period of six weeks, and we like what we see," Chief Marketing Officer Andrew Varga told The Courier-Journal. The popular discount peaked on Super Bowl Sunday, with a record 900,000 pizzas sold at Papa John's restaurants nationwide.

Before Papa John's $10 discount campaign began, Pizza Hut came out with its own $10 large pizza, any pizza, around the beginning of the year. And its new $10 pizza with three toppings deal is a bargain that Yum! Brands CEO David Novak pledged will continue.

Papa John's officials said the extended $10 pizza deal helped its business. "Over the last six months, the $10 Any Large Pizza has brought in an enormous amount of new consumers. We are holding our own with our two largest competitors fighting very hard on price," Varga said referring to Pizza Hut and Domino's.

The Louisville-based Papa John's chain still offers discounts on multiple pizza purchases, including a current $20 deal that serves up two large pizzas with three toppings each. Papa John's is also offering a $10 large, with up to three toppings, in many markets across the country, company spokesman Chris Sternberg told the newspaper.