PC&F's First My Goods Market Takes Flight
DENVER -- Pacific Convenience & Fuels LLC (PC&F), the Pleasanton, Calif.-based operator of more than 300 gas stations and convenience stores in California, Colorado, Oregon, Texas and Washington, has owned a convenience store at Denver International Airport (DIA) since January 2009. For years, little had been done with the store, prompting PC&F to recently make a change and a big one at that -- launching a brand-new concept here.
"At all of our airport stores, we make the design unique to that airport and area," said Sam Hirbod, president and CEO of PC&F, noting that the company operates locations at three other airports and has designed each one to match the image of the area. "We make it similar to the art and culture of the town, and the elements of the airport."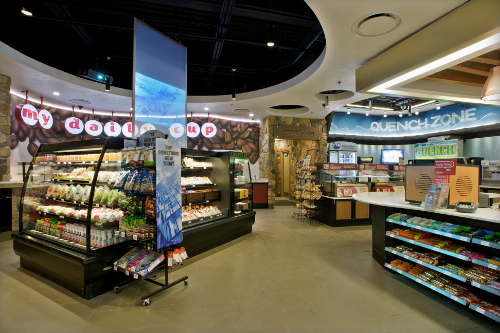 The Denver airport store represents PC&F's first My Goods Market. As CSNews Online exclusively reported, the retailer is planning to change the name of its company and all of its stores to My Goods Market by the end of the first quarter of 2014.
To redesign the DIA store, the chain worked with King Retail Solutions and the airport authorities to come up with a design to fit the Denver culture and overall modern architecture of the airport.
"With DIA being a major gateway to all things Denver, we set out to create a high energy, visually stunning retail environment welcoming travelers to the Colorado experience," explained Christopher Studach, creative director for Eugene, Ore.-based King Retail Solutions. "We used classic references such as Aspen forests, lodge stone and glacial ice, but executed them in very modern and unexpected ways."
Saturated and lively colors are used throughout the space, mixed with natural materials such as tree bark, wood and stone, and more modern elements. "The intense visual of the Quench Zone, with its backlit, icy blue 3Form and frosty white glass really draws the shoppers' attention, while the woody warmth and modern fireplace at the seating area allow shoppers to relax and enjoy their meal," noted Studach.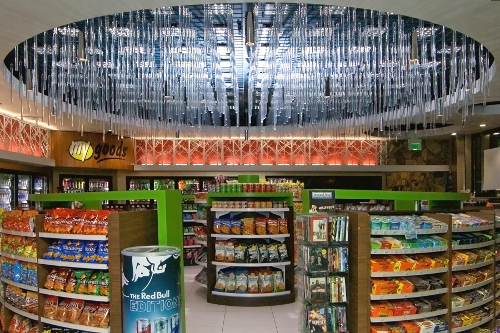 One of the most modern and eye-catching pieces of the design is a digital display suspended above the fresh goods case, which appears as a hologram floating in mid-air. A digital projector sits on top of the open-air cooler to project the image against a transparent screen and broadcasts entertainment, local news, snow/ski reports and flight schedules.
"The entire ceiling was conceived as providing glimpses into the twilight sky," the designer explained. "This area was particularly important because it was quite large and does not get much attention in c-stores."
There is also an elaborate center chandelier hanging from the ceiling, spanning 16 feet. This was constructed with more than 800 acrylic rods suspended from a grid. Above the grid are computer-controlled LED lights that individually pulsate, slowly changing color and intensity to create an "aurora borealis" lighting effect, said Studach.
In terms of product mix, My Goods carries typical convenience and snack items, and offers 24 cooler doors with drinks and other items. There is also a cooler dedicated to deli products, another for natural products and one offering items unique to the Denver area.
The fastest-growing section for My Goods, though, is its healthier, natural items. This section sees the most movement, followed by packaged beverages. The DIA store dedicates a large area to healthier grab-and-go SKUs and it has paid off, Hirbod noted.
Going forward, the goal of My Goods will be to add new items to appeal to a broader customer base, especially in the center store where many c-stores fill space with items that don't sell well.
"As convenience changes, we have to change with it," the CEO stated.
For more on My Goods Market, look in the December issue of Convenience Store News.