Pepsi Launches First Global Campaign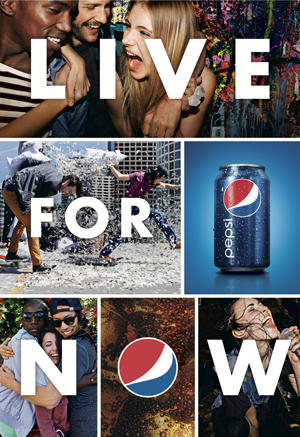 PURCHASE, N.Y. -- Pepsi today unveiled its first global campaign, titled "Live for Now," based on the brand's new global positioning. The company conducted extensive global research, connecting with thousands of fans, and found "Live for Now" reflects the insight that Pepsi fans all around the world desire to capture the excitement of now -- a mindset that is aligned with the brand's DNA.
The multi-year "Live for Now" campaign will invite and inspire Pepsi fans to live each moment to the fullest through a breadth of global, pop-culture platforms, including relationships with music and entertainment brand evangelists, digital innovation, epic events and unique partnerships. It will launch first in the United States and begin to roll out globally throughout this year.
"'Live for Now' is considerably more than a positioning statement or a single ad creative -- it is the central governing idea for the brand globally," stated Brad Jakeman, president, Global Enjoyment Brands, for PepsiCo. "Pepsi has always inspired people to embrace the 'now' by being at the epicenter of, and helping to define, pop-culture. 'Live for Now' embodies a mindset that is true of Pepsi loyalists around the world, while still connecting with a large and growing number of consumers who share the same values. It will enable the brand to deepen its global equity in a relevant and authentic way, and has already inspired a differentiated way of thinking about brand behavior across the entire Pepsi global marketing system."
Simon Lowden, chief marketing officer for Pepsi Beverages Co., noted that the 'Live for Now' positioning is a fantastic filter through which to create exciting and innovative partnerships with some of the world's leading artists and entertainment properties. "We are excited to be announcing a series of exclusive partnerships in the U.S. over the next few months that will breathe life into 'Live for Now' and offer one-of-a-kind experiences for our fans," Lowden said.
The campaign's U.S. launch will begin with "Pepsi Pulse," the digital embodiment of "Live for Now." This interactive digital platform will operate in real time, curating and serving up trending pop-culture content, entertainment news and consumer incentives. Pepsi Pulse has several features, including an interactive display of pop-culture news content and interaction with celebrity visitors. Pepsi is also launching a version of Pepsi Pulse targeting bi-cultural, Hispanic consumers called "Mi Pepsi", which will feature relevant content specific to this audience.
Also as part of the "Live for Now" platform in the U.S., Pepsi will present a series of exclusive pop-up, Twitter-enabled concerts this summer featuring major music artists. The Twitter partnership will kick off in the U.S. in early May, according to the company.
The first "Live for Now" ad spot is set to air across the U.S. on May 7, and features global music artist Nicki Minaj's mega hit "Moment 4 Life." Minaj has a cameo in the ad and is one of the many artists and entertainment brands that Pepsi will collaborate with over the coming months to bring to life the new brand proposition. "Live for Now" in the U.S. will include TV, radio, cinema and outdoor advertising, experiential, as well as digital and social media platforms.
The global campaign was created in partnership with an integrated cross-agency, multi-disciplinary team of Omnicom agencies, including Alma, BBDO Worldwide, OMD, Organic, TBWA Worldwide and TracyLocke Partners.
Click here to view a 'Live for Now' campaign video.