Pester Marketing Teams With Kickback Points on Super Bowl Giveaway
GREENWOOD VILLAGE, Colo. -- While the Denver Broncos didn't make it to the Super Bowl this year, one of their lifelong fans will be packing his bags for New Orleans. Earlier this month, KickBack Rewards Systems, Pester Marketing Co. and Phillips 66 announced that a loyal Conoco customer, Chris Park of Denver, won the KickBack Points annual Super Bowl grand prize giveaway.
The grand prize includes two tickets to Super Bowl XLVII, roundtrip airfare for two to New Orleans where the game is being played, four nights in a hotel, two pre-game party passes, two game programs and a $50 merchandise coupon. 
"This is a dream come true. I'm still in shock. It is the opportunity of a lifetime," said Park. "I saw some signs for the contest, but I really didn't think too much of it. I have never won anything in my life, so when I got the call I was overjoyed."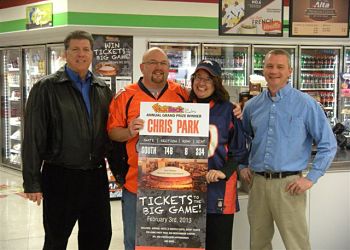 Park has been a KickBack Points cardholder for nearly two years and a customer at Pester Marketing's Alta convenience stores for almost five years.
"The KickBack Points program has been a great boost for our business and having the grand prize winner come from one of our stores has been an extremely exciting experience," said Dennis Dirkse, area sales manager for Pester Marketing. "Combined with Conoco, KickBack Points has helped solidify our overall retail offering."
Patrick Lewis, CEO of KickBack Points, shared his excitement for the grand prize winner.
"Going to a Super Bowl is on a lot of people's bucket list, and I know that Chris [Park] will have an experience that he will remember for the rest of his life."
According to Pester Marketing, the company adheres to its tagline "It's Not Just a Promotion, It's a Way of Life" and has seen a boost in sales from KickBack Points customers over the past 18 months.
Founding in the mid-1950s in Iowa, Pester Marketing currently owns and operates 51 Alta-branded c-stores in Colorado, Kansas, and Nebraska. The company's service stations in Colorado have operated under the Conoco, Phillips 66, Fina, Pester and Coastal brands since 1975.
Idaho-based KickBack Rewards Systems (KRS) has been providing marketing and enabling technology to retailers since 1999. The company boasts that its KickBack Points is the largest coalition loyalty program currently running in the United States.