09/19/2018
PHOTO GALLERY: Convenience Store News Crowns Top C-store Chefs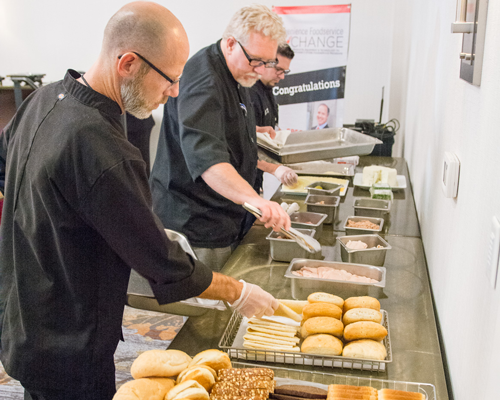 DALLAS — It wasn't that long ago that seeing trained culinary chefs working for convenience store chains was a rarity. Today, it's rare to see any c-store chain that's serious about growing its foodservice business not have a corporate chef.
One of the highlights of the 2018 Convenience Foodservice Exchange, hosted by Convenience Store News, was the event's inaugural "Top C-store Chef" competition.
Three c-store industry chefs were given 30 minutes to each prepare two convenience store-appropriate menu items using the same supplied ingredients — a selection of breads, spices, proteins, condiments, vegetables and cheeses.
At the end of the 30 minutes, moderator and Convenience Store News Editorial Director Don Longo asked the chefs to plate their dishes and bring them to the judges' table.
Their creations were judged by an expert panel consisting of Jerry Weiner (foodservice consultant, aka "The Godfather"  of convenience foodservice); Ross Adkison, foodservice director for Circle K; and Larry Miller, conference co-emcee and longtime c-store industry consultant.
The judges rated the items on the basis of taste, ingredients used, on-trend healthfulness, innovation, and appetizing look.
MEET THE CHEFS
Kyle Lore
Kyle Lore is the corporate executive chef for Maverik Inc., the Salt Lake City-based chain of more than 300 convenience stores. He has more than 20 years of progressive experience in fine dining, destination resorts, freestanding restaurants, and R&D of fresh-format retail convenience and grocery. Maverik was named the 2014 Foodservice Innovator of the Year. Lore was classically trained through apprenticeship during the Nouvelle cuisine movement, with an emphasis on all-scratch cooking.
Ryan Krebs 
Ryan Krebs is director of foodservice for Rutter's, a chain of 72 convenience stores in the Mid-Atlantic region. Based in York, Pa., the retailer is celebrating 50 years of service to the community this year. Prior to Rutter's, Krebs worked as an executive chef for 25 years, holding positions in restaurants, country clubs, hotels and health care. He was recognized nationally as the Foodservice Leader of the Year at last year's Convenience Foodservice Exchange, and was awarded The Produce Excellence in Foodservice Award earlier this year.
Andy Spink
Andy Spink is R&D Chef for Gate Petroleum, which operates and supplies fuel to nearly 200 locations in four states, including Florida, Georgia and the Carolinas. He graduated Mohawk Valley Community College with an AOS in Culinary Arts and a Certificate in Chef training. He worked seven years for Pizza Hut, starting as a cook and working his way up to general manager. After that, he went into the convenience store industry. Spink has been working for Gate for 15 years, starting as a store manager, and moved into his current position after several promotions.
AND THE WINNERS ARE …
Krebs took home the award for Best Tasting Dish with his scrumptious Grilled Cheese Panini.
The award for the Most Innovative Dishes went to Lore for his Cubano Panini and Spicy Asian Wraps.
The overall point winner in this year's Top C-store Chef competition was Spink, who was praised for his use of ingredients and the appetizing look of his Turkey Bacon Club Sandwich and Bacon, Egg and Cheese Croissant.
Top C-store Chef Competition