03/25/2019
PHOTO GALLERY: Inside Global Partners' Alltown Fresh Concept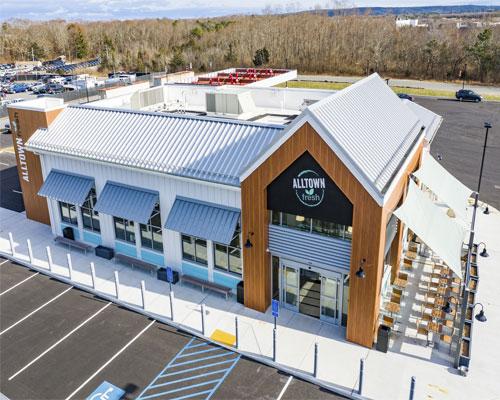 PLYMOUTH, Mass. — Alltown Fresh, a new convenience store concept from Global Partners LP that's committed to "fresh convenience," is proof that good things take time.
Debuting Jan. 16 in Plymouth, the prototype took roughly 18-24 months to launch from concept to fruition, requiring a process more complex than a typical c-store opening and more like a restaurant opening than anything else.
"Special attention was given to each ingredient in every menu item. Local supply chains were established in order to offer fresh, locally sourced products, and construction required a very specific design to create the exact vision we anticipated," an Alltown Fresh representative told Convenience Store News. "While it was more strenuous than previous launches, the results speak for themselves."
With years' worth of industry data and consumer behavior data showing that shoppers are looking for healthier on-the-go options, Alltown Fresh seeks to align with what its guests are looking for without them having to sacrifice healthy, fresh food choices for convenience.
Plymouth was chosen for the debut of Alltown Fresh because the town is tightly aligned with the c-store banner's target psychographic and demographic: millennials focused on fresh food and moms looking for healthy choices for their kids. In addition, the location is in a high-traffic area with people commuting back and forth from Cape Cod.
Housed within the 4,800-square-foot store are healthy, fresh food choices and made-to-order meals, as well as classic fare that reinvents what it means to shop and eat in a convenience store, such as:
Made-to-order meals featuring all organic produce and fresh, on-site roasted vegetables.

Fresh smoothies blended on-site using all organic produce. Guests have a choice of milk, such as almond and coconut, and a choice of yogurt, such as Greek and cashew alternatives.

Organic beverages on tap, including all-natural kombucha and organic soda; and

Swiss made bean-to-cup coffee machines that offer instant brewing of small batch, locally roasted coffee beans for fresh hot or iced coffee in blends from around the world.
"Alltown Fresh is the antithesis of today's convenience store experience. When people think of convenience stores, they instantly think of quick, stale and unhealthy products," the representative explained. "Alltown Fresh offers guests a completely different experience through healthy, fresh food choices and made-to-order meals — including organic, natural, vegan, vegetarian, gluten-free and locally sourced alternatives — all in a rush-free environment where guests can hang out with one another. Designed to be more of a local marketplace than a standard convenience store, Alltown Fresh has created a community spot for everyone in the area."
As the Alltown Fresh team moves forward, it plans to continue refining the current model in Plymouth. Additionally, there are a number of new Alltown Fresh sites in development.
Global Partners is also looking at a variety of other expansion options including, but not limited to, the conversion of current Alltown Market convenience stores in areas that align with Alltown Fresh's targeted demographic. Alltown Market is another c-store banner operated by Waltham, Mass.-based Global Partners.
Download our full report, "A Fresh Take on Convenience," by clicking below.