08/24/2018
Pilot Flying J Debuts New Coffee Offering as Consumers Crave Everything Pumpkin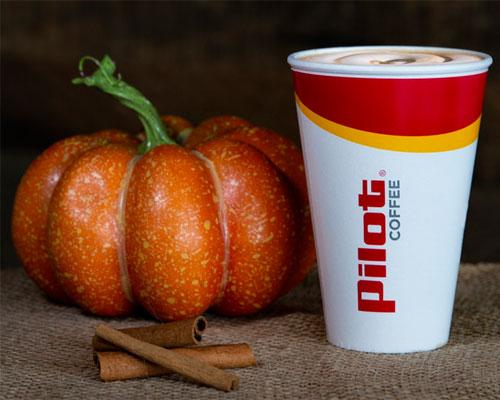 NATIONAL REPORT — As the end of summer nears, companies are preparing to meet consumers' autumn demands for pumpkin flavorings in their coffee.
Pilot Flying J recently debuted its Pumpkin Caramel Macchiato for less than $2 each. The hot beverage is available for a limited time at more than 550 Pilot and Flying J travel centers across the United States.
Pumpkin pie creamer and syrup will also return to Pilot Flying J locations in September. Customers can act as their own barista, according to the travel center operator, and create recipes such as the Fall in Love, which adds vanilla creamer and pumpkin syrup to hot coffee, and the Hazelnut Pumpkin Pie, which combines pumpkin pie spice creamer and hazelnut creamer to cold brew coffee.
In addition, Starbucks will bring its annual Pumpkin Spice Latte back earlier than usual on Aug. 28 instead of giving it a September debut. It will be accompanied by the Salted Caramel Mocha and the Teavana Pumpkin Spice Chai Tea Latte, which debuted in 2017.
Company documents shared with Business Insider also revealed the new espresso-mocha Cordusio, named after the Starbucks Reserve Roaster in Milan, Italy, as well as two new chilled autumn beverages: the Cold Foam Dark Cocoa Nitro and the Iced Maple Pecan Latte With Cold Foam.
Dunkin' Donuts will welcome the new season with an autumn-inspired menu, available at participating restaurants no later than Aug. 27. Its new items include Maple Cream Cheese Spread and the Apple Crisp Donut.
Other selections include the Belgian Waffle Breakfast Sandwich, pumpkin donuts and muffins, pumpkin flavored and maple pecan flavored coffees, pumpkin flavored K-cup pods and packaged coffee and the Festive Fall Donut.