08/20/2018
Pilot Flying J Partners on Education Outreach Program for Trucking Industry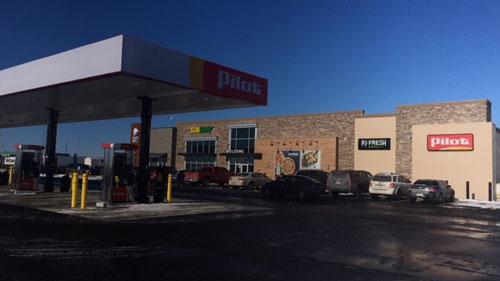 KNOXVILLE. Tenn. — Pilot Flying J teamed up with the American Trucking Association (ATA) to launch an educational outreach program for the trucking industry.
The initiative is designed to raise greater awareness of the trucking profession and professional drivers' contributions to the U.S. economy. It comes as the industry faces a driver shortage.
The partnership is just part of Pilot Flying J's efforts to honor National Driver Appreciation Week, which runs Sept. 9-15.
The travel center operator will celebrate professional drivers throughout the month of September. It kicks off its efforts with a $60,000 gift to the ATA's Trucking Cares Foundation. Pilot Flying J will also reward drivers all month long through its annual 100 Million myRewards Points Giveaway and 30 days of free offers in the myPilot app.
"Hardworking professional drivers make countless sacrifices to keep our economy moving and our ways of life possible," said Ken Parent, president of Pilot Flying J. "As we face a growing driver shortage, our hope is that this contribution will help support the Trucking Cares Foundation's mission to improve the safety, security and sustainability of the trucking industry and contribute to the future growth of the industry through education and training."
In addition, Pilot Flying J locations will feature special offers and giveaways. From Sept. 1-30, the travel center operator is giving away one free item each day in the myPilot app, including a free slice of PJ Fresh pizza and popular drinks and snacks.
Pilot Flying J Truck Care is also providing free mid-trip inspections, a value of $50, to help professional drivers and trucking companies prepare for Commercial Vehicle Safety Alliance's Brake Safety Week.
Pilot Flying J will award prizes to more than 60,000 professional drivers, including 2,000 daily winners, during the 100 Million myRewards Points Giveaway. To enter, professional drivers can swipe their myRewards loyalty card when purchasing diesel fuel at a participating Pilot or Flying J Travel Center in the United States.
The Pilot Flying J network provides drivers with access to more than 72,000 parking spaces for trucks with prime parking at more than 400 locations, 5,200 deluxe showers and more than 6,200 diesel lanes with 5,200 offering diesel exhaust fluid at the pump.
Based in Knoxville, Pilot Flying J has more than 750 retail locations in 44 states, roadside assistance available at more than 145 locations nationwide as part of its Truck Care program, 44 Goodyear Commercial Tire and Service Centers, and 34 Boss Shops. 
The company took the No. 20 spot on this year's Convenience Store News Top 100.